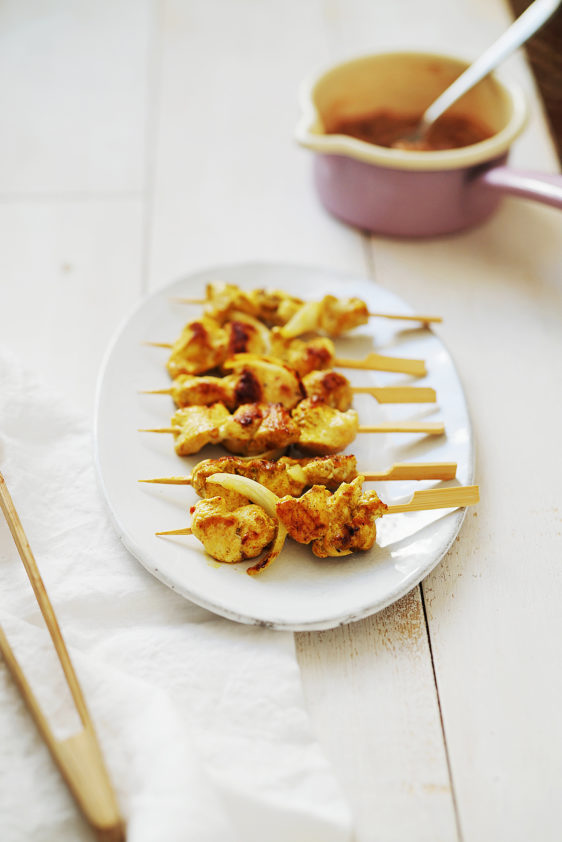 Ingredients (for 2)
For the sauce
– 2 tbsp of peanut butter with pieces (I use this one which is organic)
– 1 lime
– 3 tbsp of coconut cream
– 1 tbsp of soy sauce
– 1 tsp of nuoc mam
– 1 pinch of chilli powder
For the skewers
– 2 chicken fillets
– 1 piece of ginger
– 1 onion
– 1 tsp of ground cumin
– 1 teaspoon ground coriander
– 1 pinch of chilli
– 1 big pinch of salt
– 1 clove of garlic
Recipe
1. In a salad bowl, place the crushed garlic, the grated ginger, the diced chicken.
2. Add the spices, mix well and let marinate for a few hours or overnight.
3. Alternate a piece of chicken and a piece of onion on a skewer.
4. In a hot pan, brown the skewers in coconut oil.
5. In a saucepan, melt the peanut butters over low heat with the coconut cream, nuoc mam, chili.
6. Off the heat, add the soy sauce and lime juice. If the sauce is too thick, add a little bit of water.
You can also taste the satay sauce with summer rolls, it's delicious!