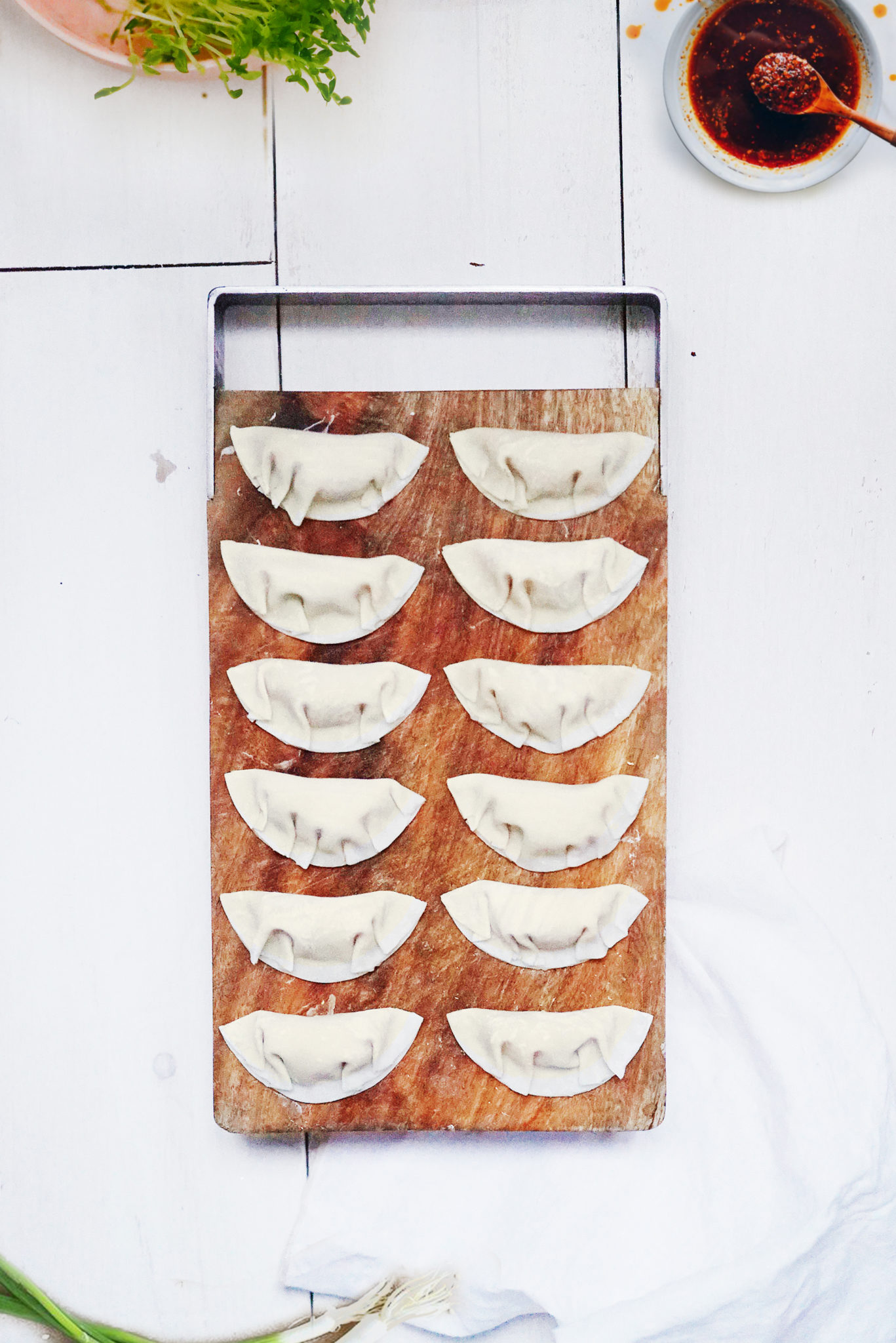 I admit, I bought ready-made gyoza dough, because it takes already a little bit of time to shape them just doing the stuffing …! But I will still give you the complete recipe if you want to make them entirely:
DOUGH (for about 25 pieces)
– 240g of T45 wheat flour
– 3g of salt
– 130g of hot water
Mix the salt in the water and then add in the flour gently, until you have a homogeneous dough. Knead the dough by hand for at least 5 minutes and set aside in the fridge for 1 hour. Roll out your dough with a special mill or with a rolling pin, then cut out circles with a glass, cover with flour.
STUFFING
– about 200g of chicken breast (you can also mix with pork)
– 1 large piece of fresh ginger
– 1 piece of leek or spring onion
– some leaves of Chinese cabbage
– 1 tbsp soy sauce
– 1 tbsp sesame oil
– 1 tbsp of mirin
1. Chop the chicken in the food processor with the ginger and cabbage. In a bowl, add the finely chopped leek or spring onion, salt and pepper.
2. Add the sauces. For the shaping, watch my little video, using a little water to stick the whole dumpling. It's not the traditional technique but I like this folding. Try to tighten it around the stuffing.
3. Then you can cook them in a lemongrass broth for example, or in a pan. To do this, sauté them in oil until they're golden, and then pour a little water into the pan, cover immediately so that they finish cooking with the steam.