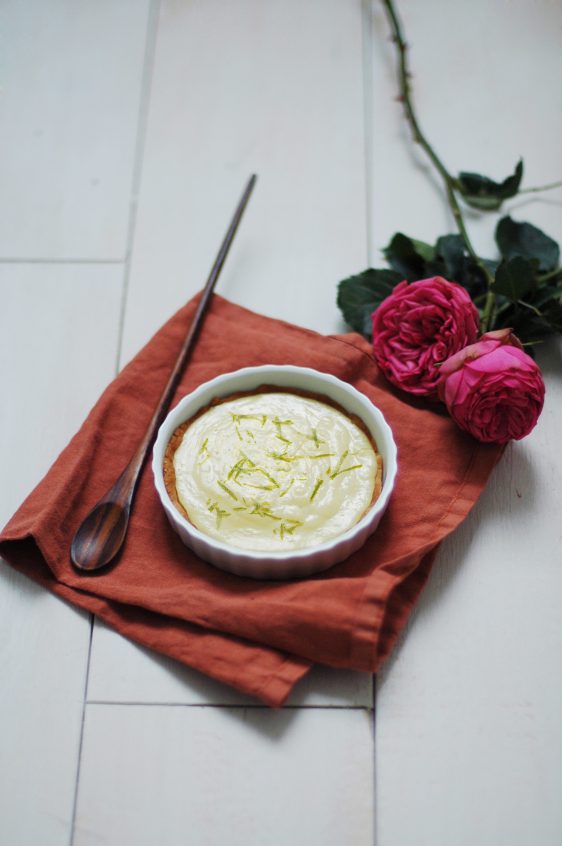 For 6 tartlets
Pastry
– 100g of rice flour
– 50g of corn flour
– 50g of teff flour
– 100g butter
– 1 egg
– 100g sugar
– 1 pinch of salt (if your butter is not salted)
Lemon curd
– 4 organic lemon (juice and zest)
– 5 tablespoons of yuzu pulp (I used the Monin one)
– 3 eggs
– 150g of butter
– 150g of sugar
– 3 tablespoons of corn starch
The Recipe
Place the flour in a large salad bowl and make a well in the middle. In another container, mix the sugar, egg and salt. Pour this mixture into the flour and mix.
Add the soft butter in small pieces and knead.
Form a ball, then roll it out. Put it in a buttered and floured tart pan.
Bake for 15 to 20 minutes at 180°C until the dough is golden.
Mix the eggs, with the sugar, lemon juice and zests.
Cook in a bain-marie stirring until the cream thickens, adding the butter with a whisk. Add also the diluted corn starch.
Add the yuzu pulp and mix everything with a mixer to obtain a smooth cream. Pour over the dough and place in the fridge for several hours before serving.
Note: I like lemon pies when they're very acid and not very sweet, so do not hesitate to taste your cream and rectify it if you find it lacks sugar!