I hope you had a nice Christmas eve, that you're well rested and above all, that you have eaten lots of amazing food! How about a festive table for New Years Eve ? A table adorned with gold sequins and lights to celebrate 2016 ? Here are some inspirations that will make you dream ! You can find all the sources on my Pinterest board.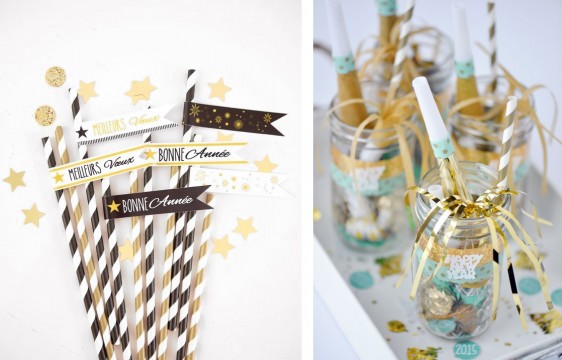 DIY from Birds Party / Mason Jars DIY from The Gunny Sack
Well it's all very well  you may say, but where do we find decorations, glitter, and gold plates? Do not worry, I've prepared your shopping list, check it out!

1. Chocolate stars – Selfridges – 5,99 £
2. Cake server- Anthropologie – 10,95 £
3. Ace of Spades – Armand de Brignac – 300 €
4. Parrot carafe – Zara Home – 35,00 €
5. Gold forks, spoons and knives – Sostrene Grene – 1,27 €
6. Happy New Year balloons – My Little Day – 43 €
7. Glasses – Fab – 34,80 $
8. Star lamp – Made – 149 €
9. Crackers – Marks and Spencer – 7,50 £