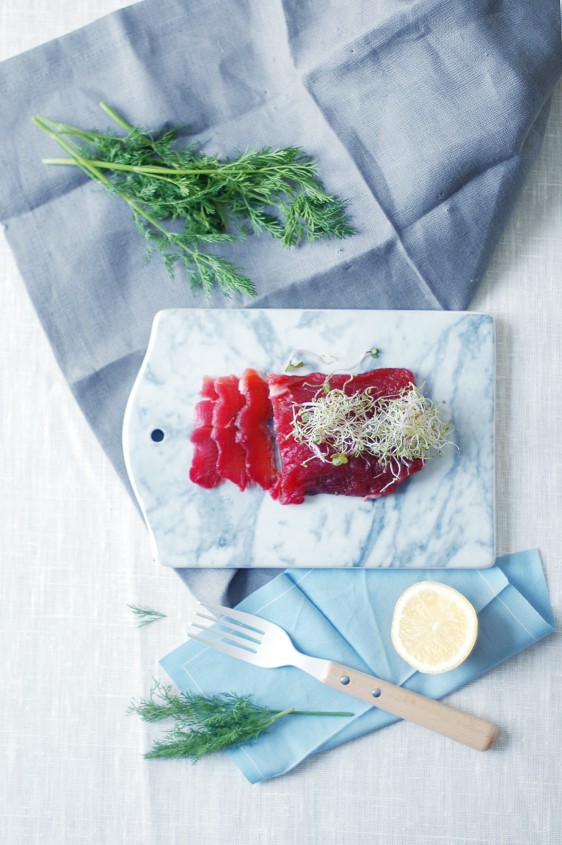 The holidays are not yet finished , and good opportunities to eat either delicacies either! Here is a recipe for your prestigious aperitif. Just buy a fillet of salmon and marinate in a mixture of sugar, salt and with plenty of spices, salmon will cook slowly through the salt.
The Ingredients
– 1kg of fresh salmon
– a bunch of dill
– 10 tablespoons of coarse salt
– 7 tablespoons of sugar
– 2 tablespoons of black pepper
– 2 tablespoons of crushed Sichuan pepper
– 2 tablespoons of crushed pink peppercorns
– 2 tablespoons mustard seeds
– 2 tablespoons cumin seeds
– 1 beetroot (raw is better cooked also works)
La Recette
1. Mix the spices with salt and sugar, cut dill and grated beets.
2. Place a sheet of plastic wrap, place a little mixture and the salmon fillet, cover with mixture.
3. Close the plastic wrap tightly.
4. Place in the fridge for 2-6 days.
5. Before serving, rinse well in fresh water and pat dry with paper towels.
6. You can eat the salmon on small toasts or with potatoes.