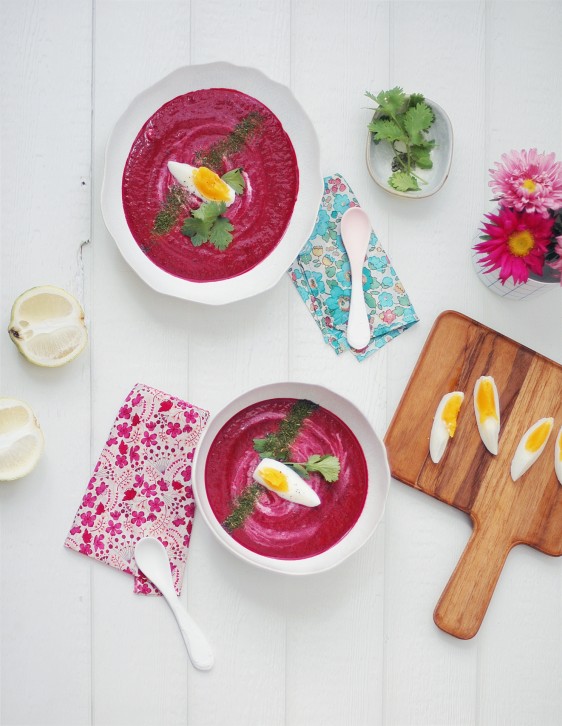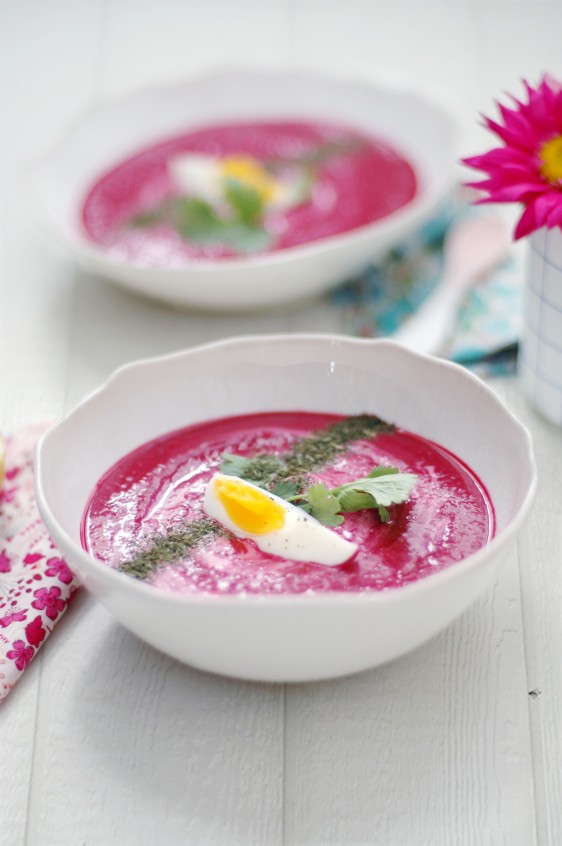 This recipe is a variation of the typical Polish bortsch, called Chłodnik. This is a kind of gazpacho that you can enjoy in summer for example. It is much faster to do than the typical borscht! It can be accompanied by boiled eggs, fresh dill, radishes, and sour cream. The pretty plates are from Jars – that's the Plume collection – which I already told you about here.
This is a version I completely improvised, feel free to send me your typical Polish recipes if you have some! Chlodnik is normally constituted of fermented milk which I replaced by liquid light cream.
The Ingredients (for 2 large bowls)
– 1 raw beetroot
– a celery stalk with leaves
– 1 clove garlic
– 1 stock cube
– 1 teaspoon ground cumin
– some coriander seeds
– fresh dill
– 1 lemon
– a tablespoon of olive oil
– salt pepper
– 1 or 2 eggs
The Recipe
1. Peel the beetroot, cut into pieces.
2. In a large saucepan, place beets, peeled garlic clove,  celery, stock cube and cover with water.
3. Bring to a boil and cook over medium heat until the beetroot is cooked.
4. Mix the vegetables. Add the olive oil, lemon juice, salt and pepper.
5. Serve with boiled eggs and fresh dill. If the taste is too strong for you, you can add 10cl of liquid cream to soften.