About Foood as you know is a blog that talks about everything that is related directly or indirectly to the world of "food". I had even created a FASHION category in which I mentioned collaborations between fashion brands and bakeries, apple-shaped bag or Nike made of hamburgers. Today I have the pleasure to introduce you to a small British brand that I love, Silken Favours, whose creator Vicki Murdoch draws sublime prints. I had a lot of fun shooting these beautiful silk blouses and fruit pillows, and even my cat Jango played along! Check out the interview with Vicki after my photos …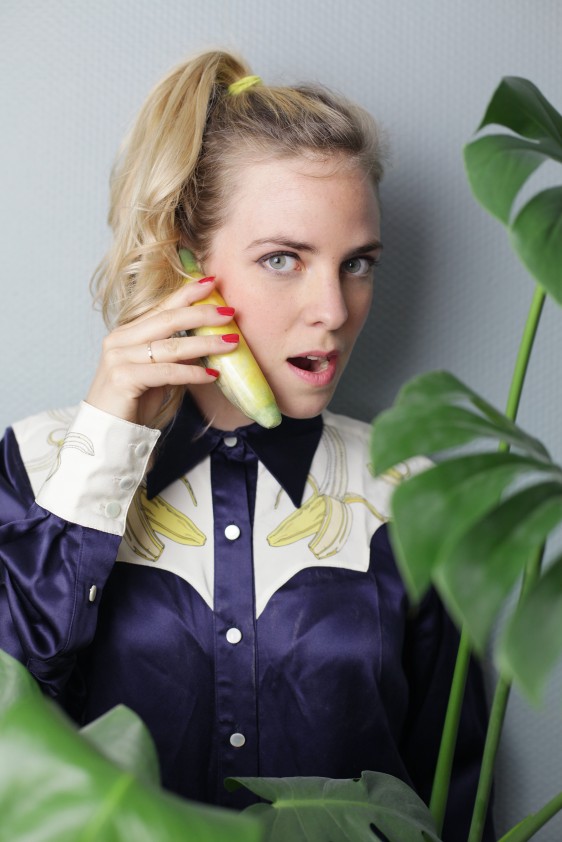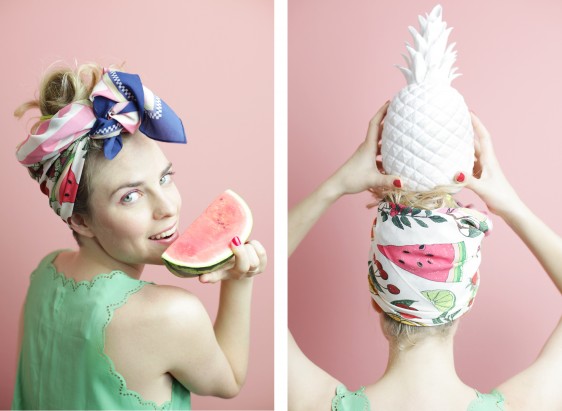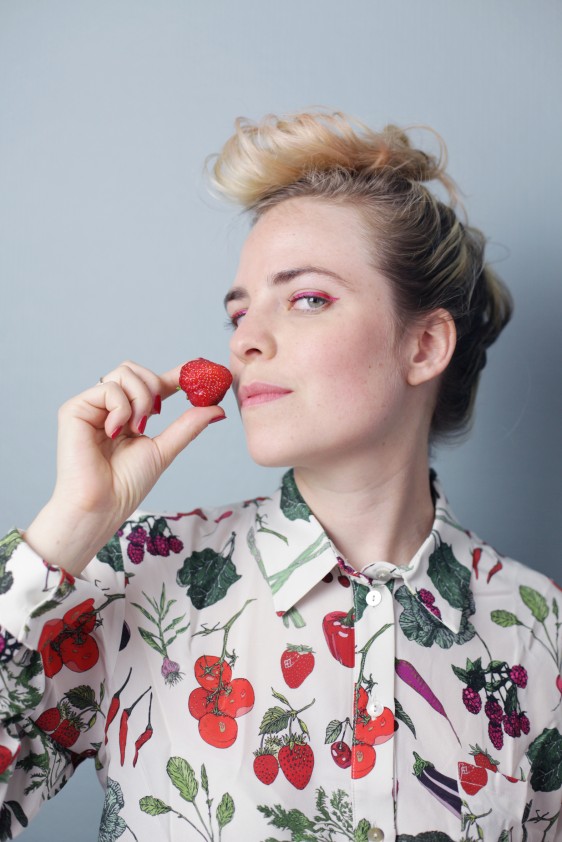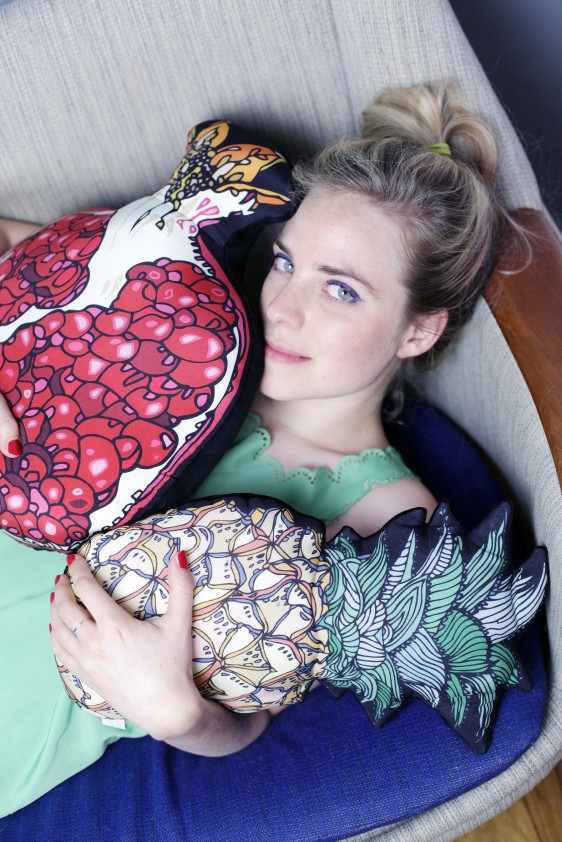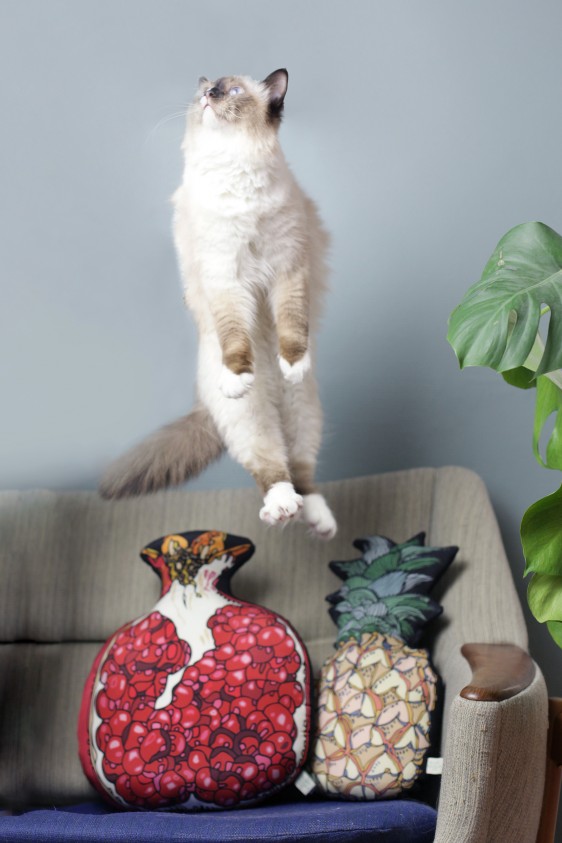 Art direction: Yoanna © About Foood
Photos: Zoé Wittock
Assistant: Rowena Cociuban
– Tell us a little bit about you…
I'm from Scotland, I grew up in a place called Aberdeen, but moved to London when I was 17 to start a modelling career which I got into from winning a competition in 1998. I got to travel the world when I was quite young and I did it by myself, so you make friends quickly and grow up fast. I had always yearned to go to Art School, so when modelling was slowing down I went to Chelsea to study textiles, which I absolutely loved. When I graduated I worked as a freelance print designer and then started up Silken Favours when the idea for making bespoke scarves popped into my head.
– What is Silken Favours?
I launched Silken Favours in 2011. The philosophy of the brand developed from a love of creating unique and personal designs for friends and family. The first scarf I made was for my parents, I drew all the birds that visited their garden, It made them cry. I thought this is great, I want to make more people cry. When I designed my first collection I was inspired by close friends, their pets and other things they care about. The prints I design are meant to be fun, but I hope they are timeless pieces that people can treasure forever.
– Do you design every pattern?
Yes, I'm a print designer and thats what I love doing best, if I could spend all day doing just that it would make me very happy, but running a business takes up lots of time, so my designing and drawing isn't an everyday occurrence.
– Where do you get your inspirations from?
You can draw inspiration from anything, I'm obsessed with nature, as you can see from my designs, so parks, travelling, being outside in open beautiful places in inspiring. I live in London so there are so many incredible exhibitions going on, inspiring people to meet etc. I also love vintage junk stores, and find inspiration from old books, music, films. These days you can research so much on google, and so much information is thrown at you, you need to filter it down to really take anything in.
– Where are the products made and how?
Well, the process starts with my drawings. I normally use pen rather than pencil for a stronger line. I then manipulate the drawings on photoshop and illustrator, adding colour and positioning the images in a composition I'm excited about. The designs are then sent off to be digitally printed here in the U.K. and each product is finished by hand by in East London.
– Where do you hope your brand will be in 5 or 10 years?
I hope that the brand continues to expand organically and slowly. in 5 years it would be amazing to have done many more collaborations with other wonderful designers and brands, Make the name known more globally,
and increase the homeware side of my business, in 10 years I would love to have a wonderful team behind me, so I could just design all day whilst travelling the world getting inspiration.