Vous avez toujours rêvé de vous retrouver à la place de Hansel et Gretel (la sorcière en moins), dans une maison entièrement comestible, faites de vos sucreries préférées? Votre voeu est exaucé! Le premier hôtel fait entièrement à partir de gâteaux à ouvert ses portes à Londres pour une unique nuit.
Il est le résultat du travail de plus de 14 artistes qui ont passé 2000 heures à mettre en forme plus de 600 kilos de sucre. Les clients pourront déguster les murs habillés de macarons, s'allonger sur un tapis de meringues, ou prendre un bain de pop-corn au caramel. Construit pour promouvoir une nouvelle gamme de Tate & Lyle Sugars, l'hôtel est comestible sur trois étages et huit pièces.
__________
Have you always dreamed of finding yourself in the place of Hansel and Gretel (witch less) in a house made of your favorite candy? Your wish is granted! The first hotel made ​​entirely from cakes opened its doors in London for a single night. It is the result of the work of over 14 artists who took 2000 hours to shape more than 600 pounds of sugar. Guests can enjoy covered macaroons walls, lying on a carpet of meringues, or take a caramel popcorn bath. Built to promote a new range of Tate & Lyle Sugars, the hotel is edible on three floors and eight rooms.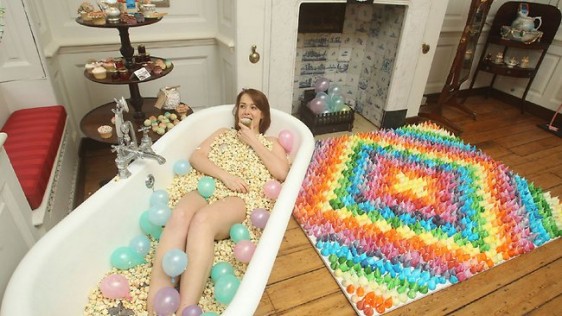 Pour ceux qui ne pourront pas aller à Londres, vous pouvez toujours vous contenter de ces jolis posters de Hansel et Gretel revisités!
Ou alors on peut aussi se prendre pour Gretel avec la collection de Red Valentino FW2013!
______
For those who won't be able to go to London, you can always hang those pretty Hansel and Gretel posters on your walls!
You can also dress up as Gretel with Red Valentino's new collection FW 2013!