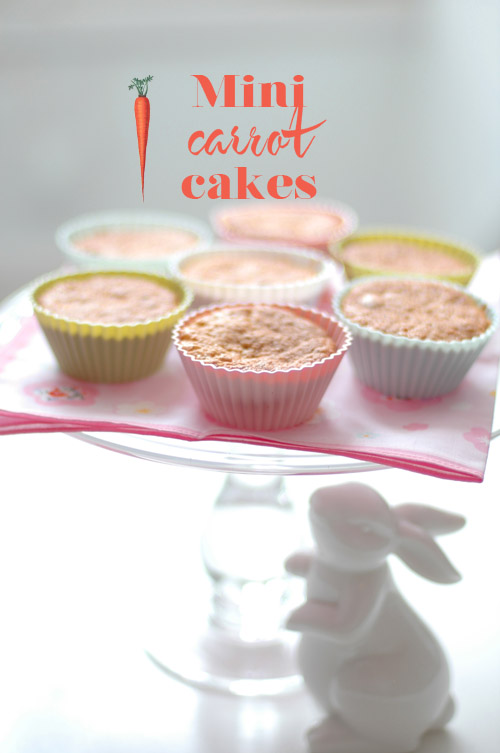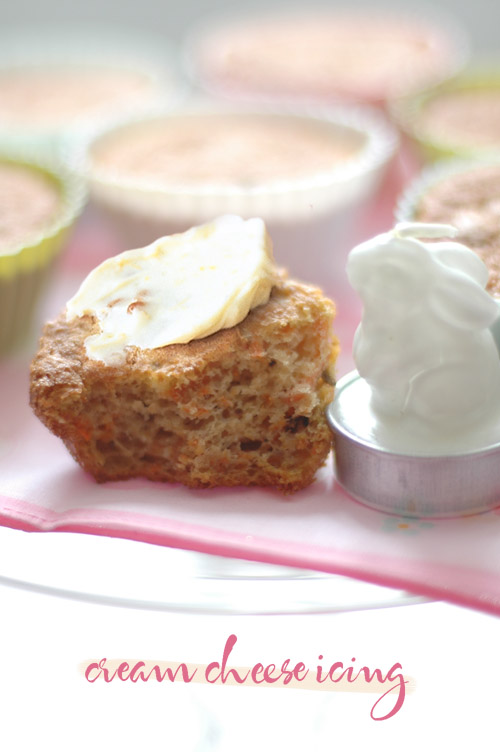 It's Easter (bunny) period so here are mini carrot cakes without fat. I really like their soft and light texture. I changed the recipe a bit from this 
one
.
The Ingredients (for about 20 little cakes)
– 4 big carrots
– 175g almond powder
– 50g pecan nuts
– 4 eggs
– 80g flour
– 140g brown sugar
– 1 pack of baking powder (11g)
– ½ ts salt
– 1 organic lemon
– 1 ts cinnamon
– 1 ts ginger powder
– you can also add dried cranberries if you like
– 1 orange
for the icing
– 1 organic lemon
– 80g icing sugar
– 150g fat-free cream cheese
The Recipe
1. Beat the egg yolks with the sugar until it becomes foamy
2. Add the lemon and orange zest, the flour, salt, baking powder, almond powder and the pecans, spices and grated carrots, and at last the lemon juice.
3. Whisk the eggwhites until stiff and add them to the mix.
4. Pour the mixture in silicone molds.
5. Bake at 180° C for about 40 minutes.
The Icing
Mix the icing sugar and lemon juice. Add the lemon zest.

Add the cream cheese. Beat for a few minutes with an electric mixer. Spread on cakes and place them in the fridge for a few hours.