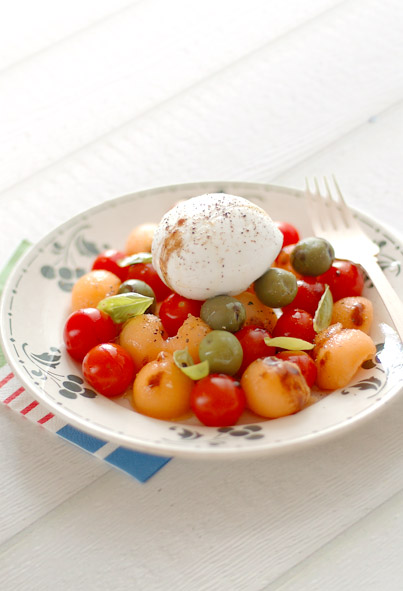 Here is an idea of a very simple and quick (for those who think that they need time to cook, you're wrong guys!) recipe of a colorful summer salad.
The Ingredients (for 1 plate)
– 1 mozarella di buffala or burrata
– a dozen cherry tomatoes
– a few basil leaves
– a few green olives (I brought mine from Italy, they are amazing, they have a nutty taste!)
– 1/2 melon
– 2 tbps fig balsamic vinegar
– 3 tbsp olive oil
– salt and pepper
– 1/2 lemon
The Recipe
Wash the tomatoes, the basil. Place them in a bol.
With a round spoon, form little balls of melon.
Add it to the tomatoes, with the olives.
Mix with the olive oil, vinegar and lemon juice.
Garnish your plate with the mozarella on top, add salt and pepper.