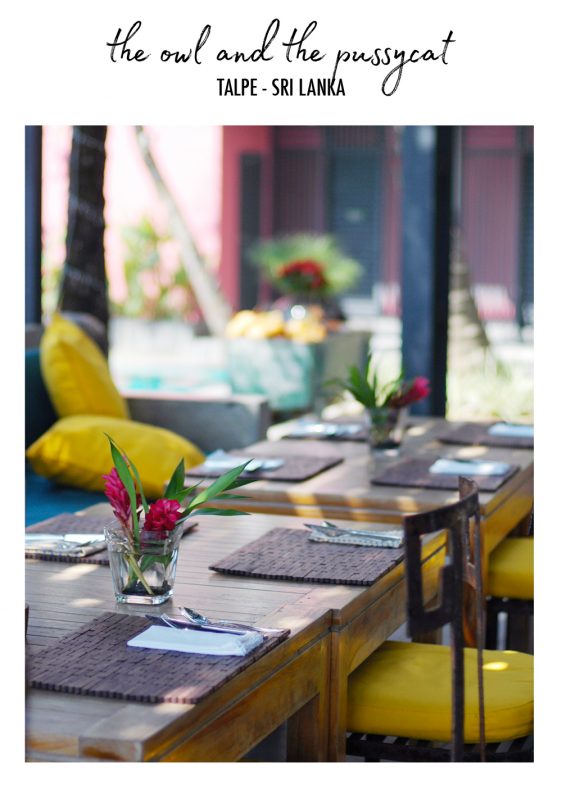 I was lucky enough to discover this beautiful place on the south coast of Sri Lanka, near Galle. The Owl and the Pussycat is a modern and colorful hotel, built literally by the water, and benefits a unique tranquility. The decoration is sublime and cleverly chosen: embroidered cushions, aged wood, flashy colors, refined exotic bouquets, delicate dishes. Even the kitchen is probably the most photogenic I've ever visited! The bar is made of waxed concrete and turquoise tiles matching the pool which thrones in the middle of the restaurant. We sip a fresh coconut or a cocktail made with the local ginger beer or arrack, the Sri Lankan coconut alcohol, watching the fishermen a few meters from us, perched on their wooden poles in the middle of the waves.
At the Runcible Spoon restaurant, the cuisine is refined and tasty, inspired not only by Sri Lankan classics and local spices, but also by Asian cuisine. The tuna tataki with sesame melts in the mouth; the local fish with coconut milk and lemongrass is cooked to perfection, and the Thai basil shrimps are divinely caramelized, accompanied by a magic rice with fresh ginger.
We would stay here forever!
Owl and the Pussycat Hotel
N 788 Matara Road
Talpe, Galle 80615
Sri Lanka