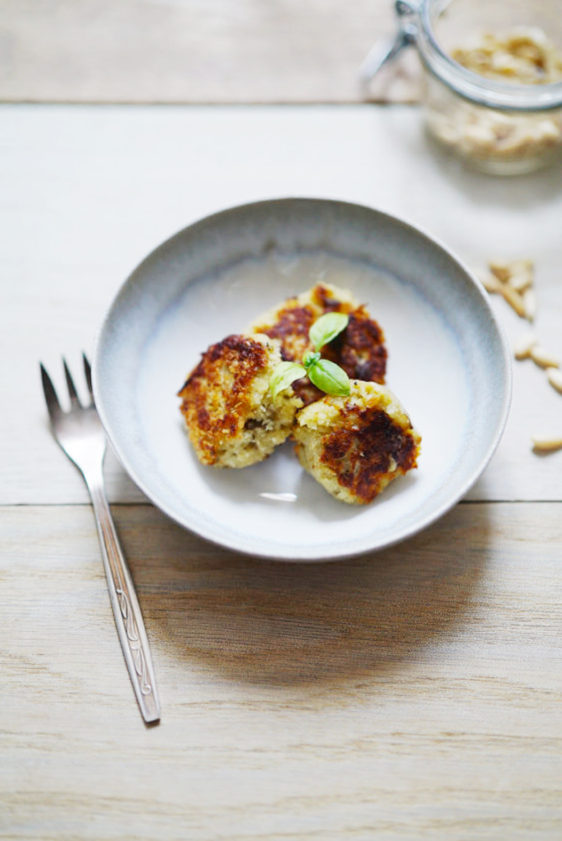 These meltingly soft vegetarian balls are inspired by the recipe from chef Giuseppe Giovanni Di Martino of the restaurant Cappero Rosso in Pizzo Calabro.
Ingredients for 4 persons
2 eggplants
1 egg
a handful of black olives (pitted)
15 capers
1 clove of garlic
some fresh parsley
1 tablespoon cumin powder
20 grams of grated pecorino
50 grams of bread crumbs
a dozen pine nuts
The Recipe
Preheat your oven at 200°C. Wash the eggplants, cut the ends. Bake for about 30 minutes, turning them halfway through cooking. Check that they are well cooked with a knife.
Take them out of the oven, let them cool. Remove the skin and take out the flesh in a salad bowl.
Place the chopped garlic, parsley, capers, olives into the bowl. Add the pecorino, cumin and coarsely cut pine nuts, as well as a large pinch of salt and pepper. Mix everything with a fork.
In a bowl, beat the egg with a pinch of salt. Form small balls with the eggplant. Dip them in the egg and then in the bread crumbs.
In a pan, heat some olive oil and fry them for a few minutes on each side until they are golden brown. You can enjoy them with some arugula salad, or a homemade tomato sauce!