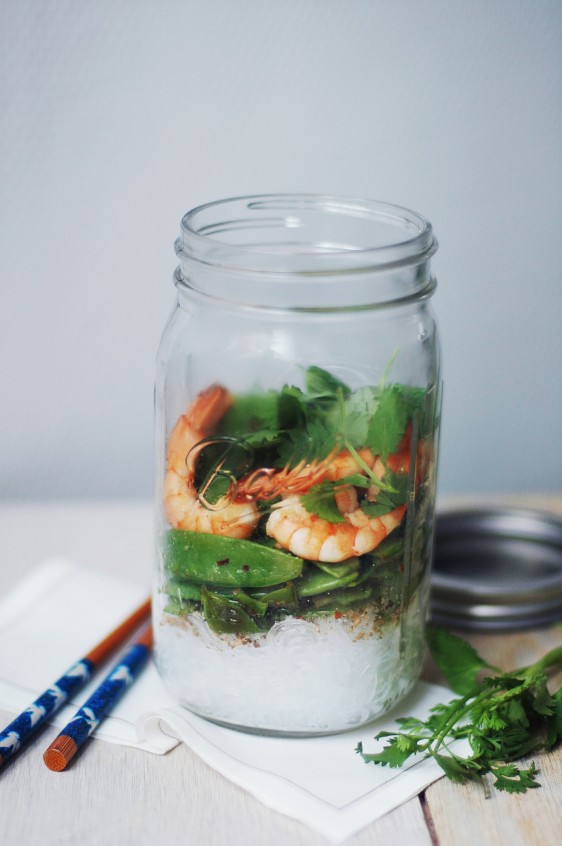 Have you heard of salad jars? Another concept just to talk about salads you might say, but in reality the idea is pretty neat because you just prepare your salad in a large glass jar that you can then easily take the office for lunch or take away for a pic-nic.
You can even prepare this recipe in the morning as it is quick and easy!
The Ingredients (for 1 person)
– a few peeled shrimps, raw or already pre-cooked
– 1 portion of rice vermicelli (about 100g)
– a handful of mangetout peas
– 1 tablespoon sesame oil
– 1 tablespoon soy sauce
– 1 tablespoon powdered sesame seeds (found in Asian groceries)
– 1 teaspoon of ground turmeric
– 1 pinch of chili
– 1 garlic clove
– fresh coriander
The Recipe
1. Cook your noodles then rinse them.
2. In a saucepan, sauté the garlic with a pinch of olive oil or sunflower oil. Add the prawns, turmeric, chili and snow peas, salt and pepper.
3. In the jar, place the noodles, add sesame oil, soy sauce and ground sesame and arrange over the shrimp and snow peas. Finish with a bunch of fresh coriander.