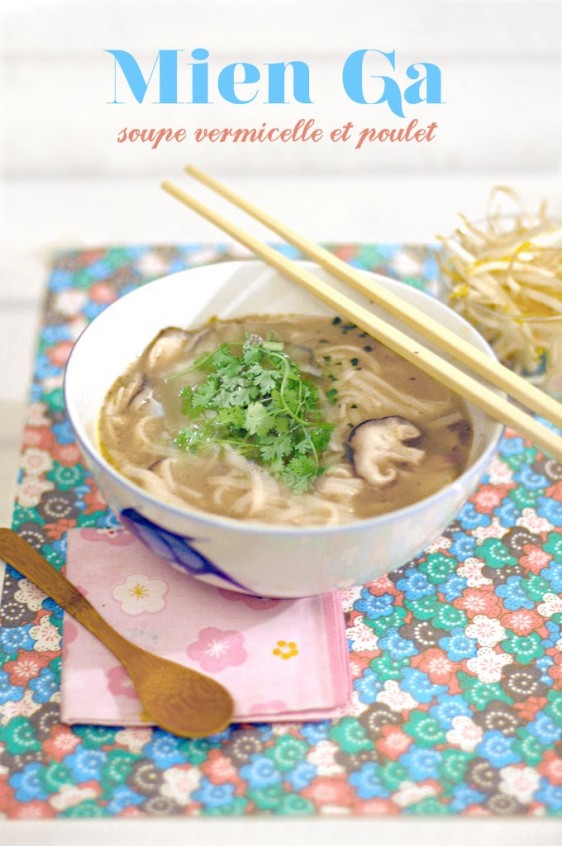 What to do with leftover roast chicken? A good flavored broth, and it's not complicated! Here is my version of a Vietnamese noodle soup, inspired of the Mien Ga recipe from the book Paris Hanoi I had told you about.
Ingredients (for 2 people)
– The remains of a chicken
– 1 tbsp sesame oil
– 1 tbsp soy sauce
– 1 clove of garlic
– 1 stock cube
– a dozen fresh shiitake
– rice noodles or vermicelli
– fresh coriander
– fresh bean sprouts
The Recipe
Bone your chicken. Fry with chopped garlic and sesame oil.
Cover with a liter of broth and soy sauce.
Add the sliced shiitake and cook over medium heat for a few minutes.
Serve with cilantro and bean sprouts.
___
Original recipe from Paris Hanoi
Ingredients
– 200g transparent vermicelli
– 20g of dried mushrooms
– 1 tbsp fish sauce
– 1 whole chicken
– 2 shallots
– fresh chives
– fresh coriander
– 2 tbsp sunflower oil
The Recipe
Cook chicken in a pot of water for 1:30. Cool, then cut the flesh into thin strips.
Soak the noodles in warm water for 5 minutes, drain and cut into pieces.
Soften dried mushrooms in warm water for 15 minutes then cut into slices.
Peel the shallots and cut into thin slices. Fry them in a pan with hot oil. They should be golden.
Arrange noodles and chicken in bowl and pour the broth. Add a few drops of nuoc-mâm, mushrooms, scallions, cilantro and chives.