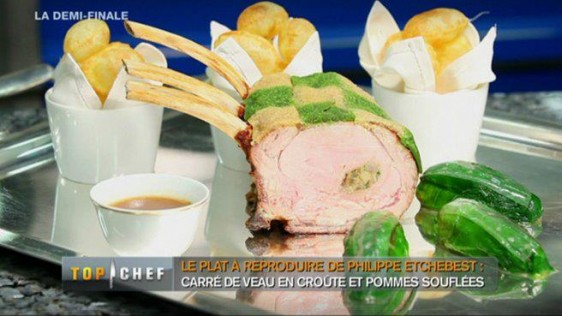 This year on our French tv show Top Chef, the French chef Philippe Etchebest gave a challenge to the candidates : making the meal he had won Meilleur Ouvrier de France with (one of the most prestigious cooking contest). My brother naively asked my mother to do the same meal at home. Height hours later, the kitchen was smelling great, and I helped with the making of this quite complicated checkerboard crust.
Here are a few tips to do the same at home…
☆ Veal chop
Ask your butcher to take of the bones and ribs, and to prepare it so you can stuff it.
☆ The crust
Mix a loaf (approx. 300g) with garlic, butter (approx. 100g) and salt, the paste cannot be too humid.
Separate in two equal parts. To make the green one, add parsley, basil, dill until it gets a nice green color.
Spread the two paste into sheets of greaseproof paper and roll them until they get approx. 3mm thick. Put in the freezer onto plates so that they stay horizontal.

☆ The stuffing
Brown some ceps in butter with garlic and parsley.
Add a farce fine : warm up 10cl of milk with 2 pieces of loaf.
Mix 100g of veal breast with garlic, 1 oignon and parsley.
Add a beaten egg, the loaf soaked in milk, salt and pepper.
Mix the ceps with it and make a sort of sausage by rolling this up in a cellophane. Place in the freezer.
The Recipe
That's where things get more complicated…Once your ballotine is freezed, insert it in the veal, attach it with a string. Bake it for 1h30 at T7 (180˚C) so that the meat is rosée.
The checkboard is to be made at the last minute…We started by making it with strips and finished with squares…What is very complicated is that the  crust melts and it's hard to cut it so we refreezed it several times.
Once you get the checkboard done, put it delicately on the meat and make it grill in your oven for one minute.