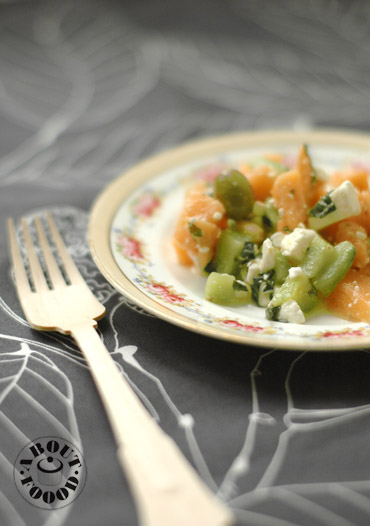 Come on, admit it, you have, just like I did, tried to buy melons until the end of summer not to say the beginning of autumn, to extend this moment of bliss which is the tasting of this incredibe fruit. I have to add that I have an amazing chance, maybe a sort of natural gift, of choosing the PERFECT melon amongst the 50 fruits standing in front of me. I am really proud of this, this is not given to anyone is it? And unfortunately, in view of the fact that the cold has indeed arrived, that you have put on stockings and wear furry boots again, are soon going to be asking me for some soup recipes, well I've decided to make this bit of summer prolongs with this last post. Idea of a salad eaten at my parents this summer with melon and cucumber coming right out of the vegetable garden.
Cut the feta, melon and cucumber into cubes, then mix everything with the mint and olives into a salad bowl. 

Add some olive oil and lemon juice, and pepper. This is as simple as this.