I love this very simple recipe, an easy way to make children eat vegetables ! I discovered this dish in Greece a long time ago, called kolokythokeftedes, these little fritters are tender on the inside and crispy on the outside, a real delight!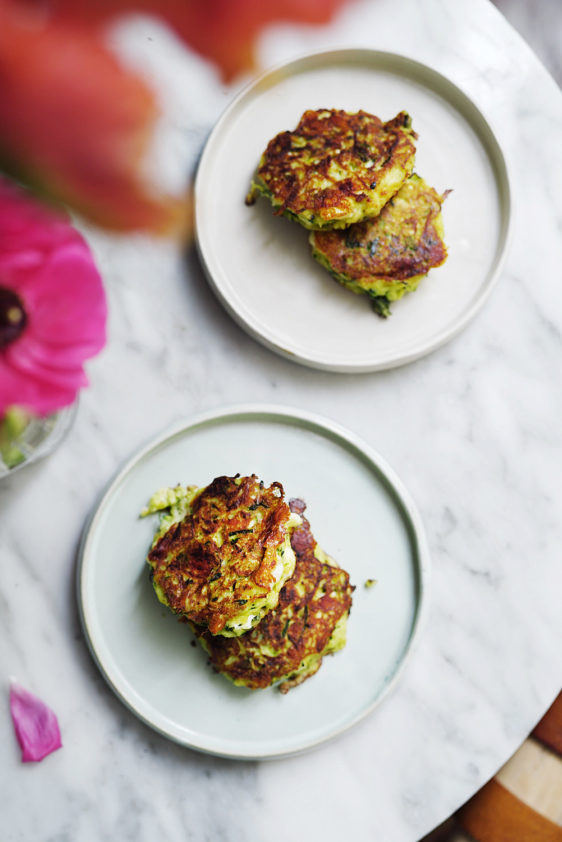 Zucchini, feta & mint fritters (for 2 people)
– 1 large zucchini (green or yellow)
– 1/2 pack of feta (about 100g)
– 1 egg (or a little diluted cornstarch for vegans)
– 2 tbsp of flour (rice for gluten-free)
– 4 tablespoons of breadcrumbs
– a few mint leaves
– 1 pinch of salt and pepper
– 1 drizzle of olive oil for cooking
1. Grate the zucchini. Reserve in a bowl with a pinch of salt on it, let it drain well for at least 20 minutes, and remove the water.
2. In a bowl, combine the crumbled feta, the beaten egg, the flour, the chopped mint, the zucchini.
2. Form balls that you will dip in the breadcrumbs. Sear in a hot, oiled pan for about ten minutes, turning on each side. The exterior must be golden brown.