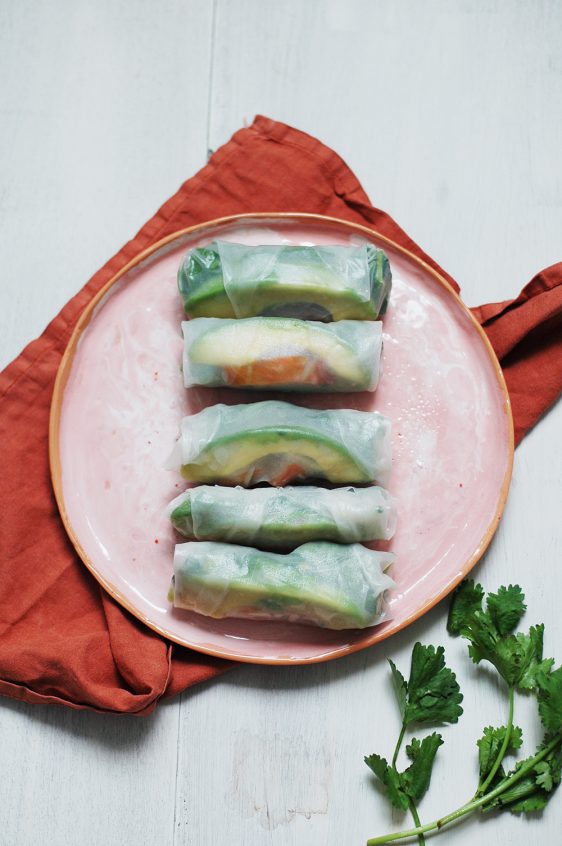 Have you heard of J.C. David? It is a traditional company specialized in fish smoking. Their production is inspired by an ancestral process, completely artisanal and natural, with which quality fish are smoked thanks to salt and smoke from wood-burning ovens. You can find their products in high-end fish shops, in some restaurants but also at the Grande Epicerie de Paris and Monoprix supermarkets. I created a very simple recipe based on smoked haddock, which goes very well with avocado (just like smoked salmon for that matter).
The Ingredients (pour 4 persons)
– 8 rice wrappers
– 280g of smoked haddock
– 1 avocado
– spinach leaves
– 1 piece of fresh ginger
– a bunch of fresh coriander
The Recipe
Dip a cake of rice wrapper in lukewarm water in a large dish, as it softens. Do not leave it too long either, otherwise it will be too fragile.
Arrange it on a plate or a worktop, place a piece or a slice of smoked haddock, a slice of avocado, some leaves of spinach, all in the middle on the rather low part of the wrapper.
Grate some fresh ginger over, add a little bit of coriander leaves. Close a right pan on the middle, then the left and roll tightly.
You can serve the rolls with a mixture of sesame oil and soy sauce, or some peanut sauce!