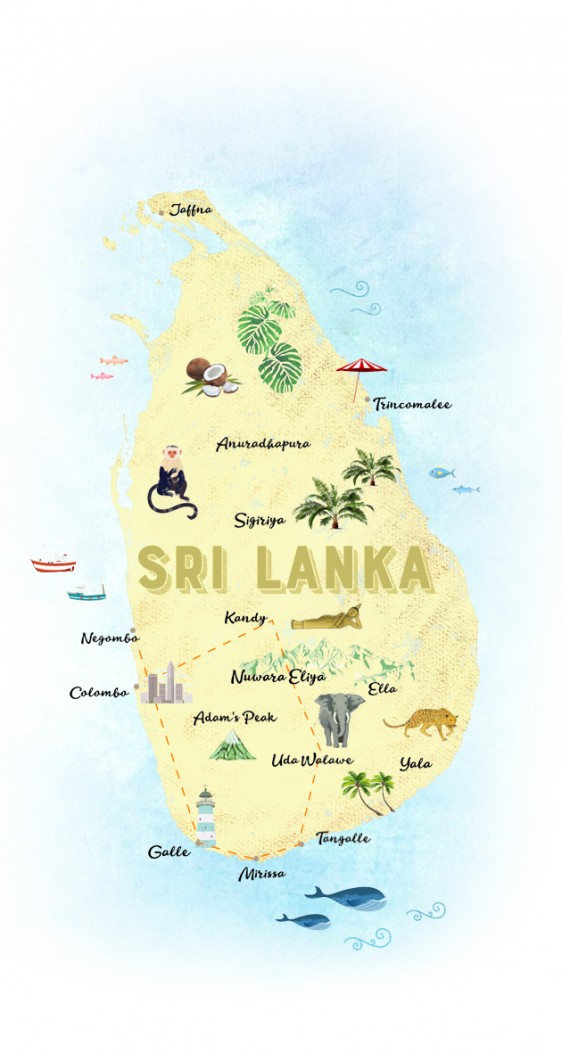 I have just returned from Sri Lanka, eyes full of stars, with a tan and a peaceful mind, and I decided to tell you about it as soon as possible so that my memories stay the freshest! I will avoid being too long, and I will especially tell you about my journey, which I drew on this map! Do you like my little map of Sri Lanka? :-) For the rest, you can find it in the travel guides… So, you will surely start by asking me… why go to Sri Lanka? Because this island with luxuriant vegetation is completely exotic, in terms of culture, rites, lifestyle ; for the cooking which is amazingly tasty (yes, it is spicy ), for the exotic fruits, for the kindness of the Sri Lankans, for the beach bordered of coconut trees, to be hot in winter, to surf, to walk in tea plantations, to see incredible animals,… and the list is long! I obviously could not see everything in 10 days, but I would love to go back to see more of the north and east. So, let's start with some info:
Time of flight
From Paris, about 10h00
Jetlag
Only 4 or 5h! Practical!
When to go
The best period is from January to April. Avoid summer because it is the big monsoon (June to August). I was there just before Christmas in mid December and it was perfect as there were not too many tourists, and it was very hot (32°C)!
– West coast and the South: from December to April, it is the least rainy and the sunniest period.
– East Coast and North: February to September. Avoid leaving between October and the end of January, it's the little monsoon!
How much does it cost
→ Hotels: There are hotels not very expensive (10-20 € per night) but it is generally quite spartan. If you prefer comfort (and a swimming pool), the rooms can quickly climb (60-100 € per night), or even explode for some luxury hotels (200-400 € per night).
→ Meals: if you eat on the street like the local, it is often cheap (5-7 € for a dish, or even a few cents for donuts or streetfood), but it can also quickly increase in more upscale restaurants (10-30 € a plate). Be careful to add tax and tip – a bit like in the US – everywhere, whether in restaurants, hotels, services …
→ Activities: most activities are rather expensive, and the prices charged for Sri Lanka are not the same for tourists. I detail the prices in my itinerary.
Transports
→ Tuk tuk : It is the easiest and most widespread way to get around, especially when you see that there is no sidewalk :-) Count from 2 to 5 € for short trips (a few kilometers max).
→ Car: Avoid renting a car or a scooter because the roads and especially the Sri Lankan way of driving is dangerous – for us who are not used to it! What is often done is to take a driver. This is what we did for a large part of our trip. Price between 50-80 € per day all inclusive.
→ Trains: Train trips are incredible (and very cheap), especially for some mountain trips (Colombo-Kandy). Try to arrive at the station a little before or even book in advance as some trains are full in high season.
What to bring back
→ spices
→ Ayurvedic balm
→ silk
→ tea
→ precious stones
_______________________________________
My Itinerary
As I stayed only 10 days, I chose a route that mixed beaches, nature and cultural visit, but I did not have time to do the cultural triangle.
COLOMBO
We stayed only one night in the very lively town of Colombo. For evening meals, you can stroll through the Dutch Hospital in the Fort district, a former hospital of the 17th century which houses several open-air restaurants in arcades.
KANDY
The train journey from Colombo is breathtaking! Seat on the right to see the most beautiful part of the landscape (price of the journey = 1,50 € / duration = 3h).
You can see the luxuriant vegetation of Sri Lanka, palm groves, rice fields, rivers, turquoise houses alongside the fushia, buddhas and sculptures of elephants, buffalo, herons and sometimes even herons posed on buffalos. Last hour of the journey, the train slows down climbing the mountains, we find ourselves suspended above the cliffs.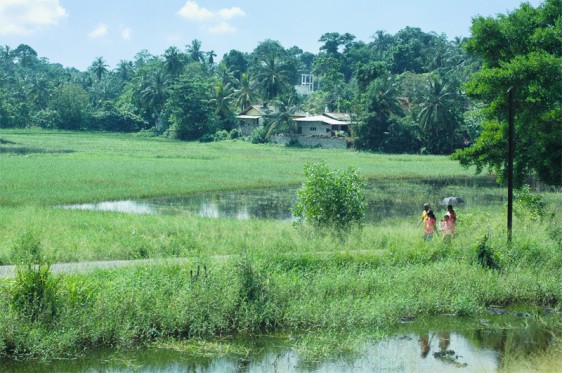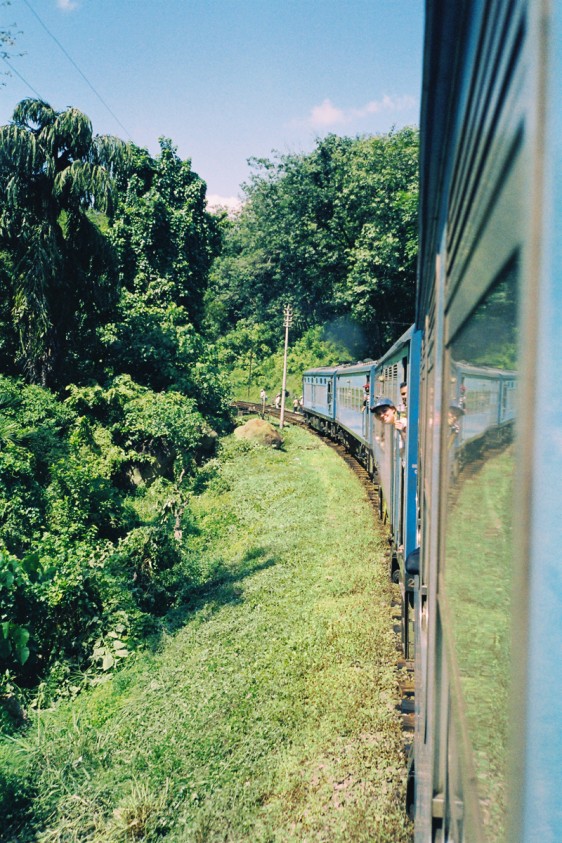 The town of Kandy is one of the places I liked most about the trip, but perhaps because it's because was the first city I discovered. A teeming city, built around its lake, built in height, surrounded by dense and tropical forests. Here are some activities not to be missed:
→ Central Market: near the railway station, the market welcomes Sri Lankans who come to buy exotic fruits (mangoes, bananas, coconut, pineapple), dried fish, herbs… Upstairs you will find some more touristy shops with fabrics, bags,… I advise you to buy your spices rather in the markets or grocery stores, not at the Spice Market of Kandy which is really touristic and where prices are multiplied by 10 !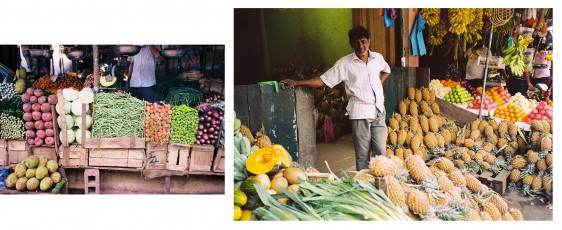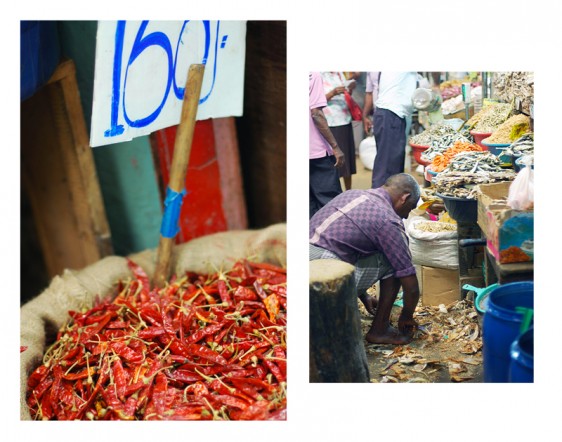 → Peradeniya Royal Botanical Garden :  from the center, take bus 654 (20 cents instead of a few euros for a tuk-tuk). You can spend half a day strolling in this 60-hectare park, between giant bamboos, palm trees, the orchid greenhouse, and trees of all kinds that shelter fierce monkeys or the biggest bats I've seen in my life! A moment out of time. Admission price about 20 € per person.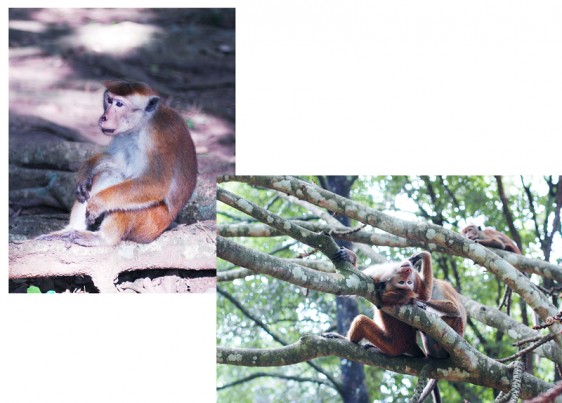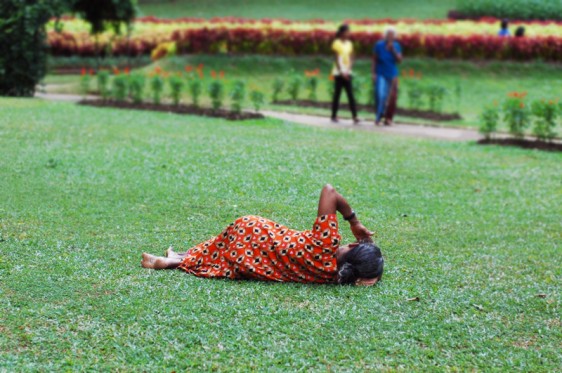 → Tooth Temple: The temple of the tooth houses one of Buddha's teeth. One can see several ceremonies per day, and sellers of lotus flowers that serve as offerings. In July there is the Perahera, a big festival of several days during which processions, dances, and decorated elephants are seen. The prices are exploding and it is difficult to stay there as the city is taken by assault!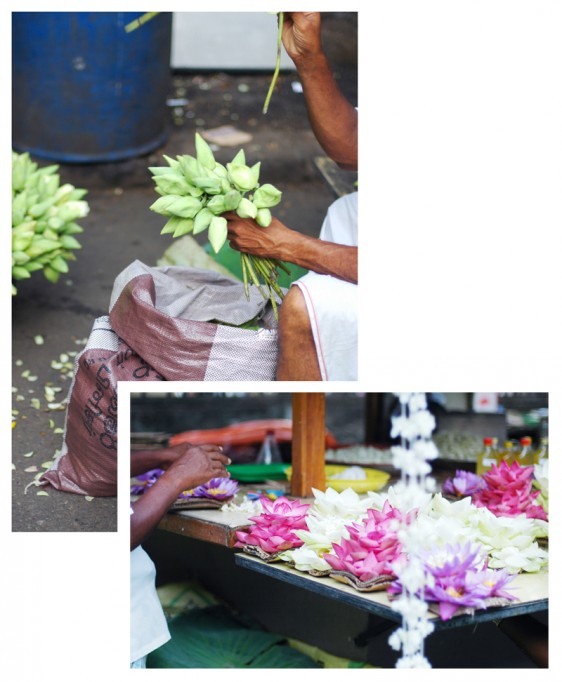 NUWARA ELIYA
The road to Nuwara Eliya is crazy beautiful. The landscapes change every hour, the winding road sinks into the mountains, the weather darkens and the temperature drops drastically. Tea plantations stretch as far as the eye can see and are almost fluorescent green. You can even visit a tea factory: there are 300 in the neighborhood! The tour is free but tips are welcome, and you can buy tea on site (black, green, white tea). Even in the lost mountain roads you can still see vendors of colored plastic toys, exotic fruits, tuk-tuk car parks, hordes of wild dogs sunbathing in the middle of the road. And monkeys. Monkeys everywhere on the temples, on the road, in the trees, swinging on the electric wires.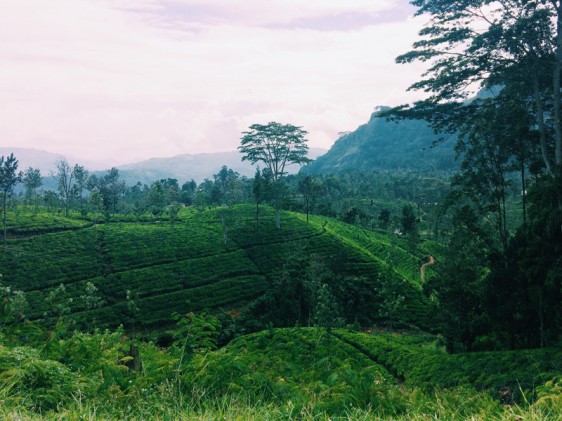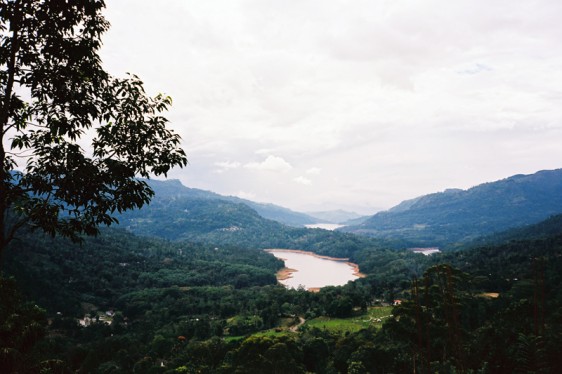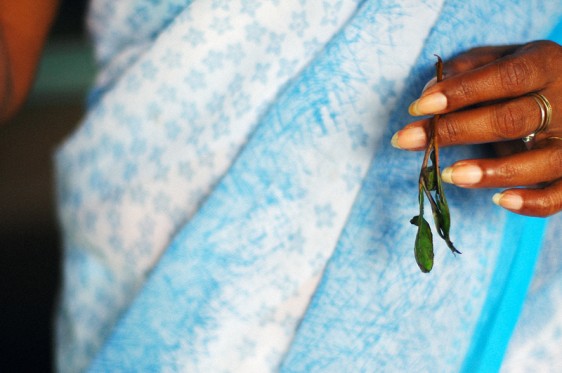 UDA WALAWE
Descending to the coast, the landscapes are always changing, tea plantations give way to vegetable fields, then to steep, rocky green hills, pine forests interspersed with waterfalls, then the plains, rice paddies and palm trees again. Near the park Uda Walawe, if you do not stop there, you can see some elephants on the side of the road. We hesitated before visiting the park because it is not cheap (about 40 € per person) and we were afraid of being disappointed, but it was really sublime, both in terms of the landscapes than in terms of animals. Being able to observe elephants in their natural habitat is magical! The park is 300m2, you can spend a good half day and observe hundreds of elephants, wild buffaloes, crocodiles, marabouts, pelicans, toucans, eagles, hundreds of colorful birds of all kinds… A friend who also made Yala Park which is much larger preferred this one, less prized by the hordes of tourists and more beautiful.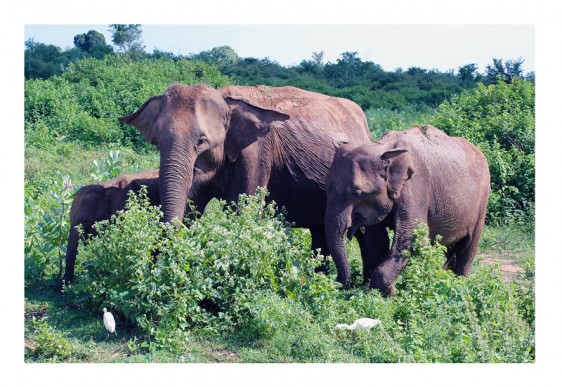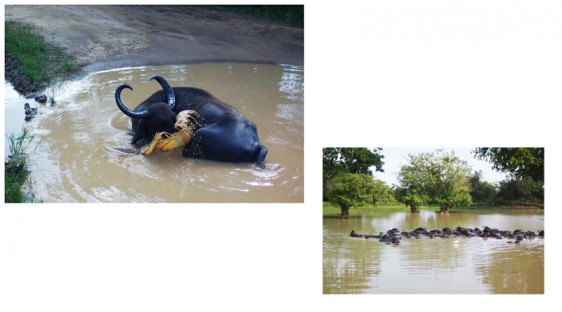 TANGALLE
If you have not seen enough animals yet, it is in Rekuwa that the turtles can be seen laying on the beach at nightfall. Tangalle also has beautiful beaches.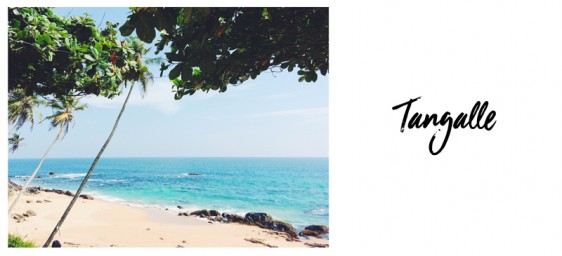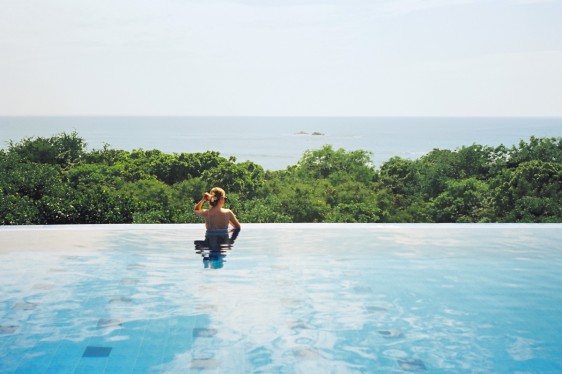 MIRISSA
Mirissa is a very small village and boils down to a single beach covered with bars and guesthouses, all filled with tourists. Not really the kind of atmosphere that I prefer, but you can go whale watching (and even swim with them) by boat. We ate extremely well at the Zephyr restaurant right at the end of the beach, where you can choose your fish on a stall that shows the day's fishing. We ate incredible lobsters for 15 € per person!
GALLE
I also loved Galle, the second largest city in Sri Lanka, and especially its old town surrounded by ramparts. You can spend a whole day wandering between the alleys and seeing the vestiges of civilizations that have passed through there: English, Dutch and Portuguese. This part of the city is registered in the patrimony of Unesco. Although it has become very touristy, one can taste very good dishes, buy precious stones (Sri Lanka still has some mines), or watch the sunset on the ramparts.
–> Mama's
There is a delicious and typical Rice and Curry, homemade in the small kitchen of Namali, which also teaches cooking classes.
76 Leyn Baan Street, Galle
–> Fortaleza
We come to refresh ourselves during heavy heat in this pretty courtyard where you can sip a charming cold house tea. We also eat very well, the building is also a hotel.
Church Cross St, Galle
–> Elita
The chef has lived in Belgium and therefore serves delicious fries! They accompany especially good fresh fish and seafood. They are cooked grilled, in coconut milk sauce, or fried.
34 Middle St, Galle
From Galle, you can also stroll on the beautiful beaches (and very popular) of Unawatuna and Dalawella, about 15 minutes in tuk-tuk.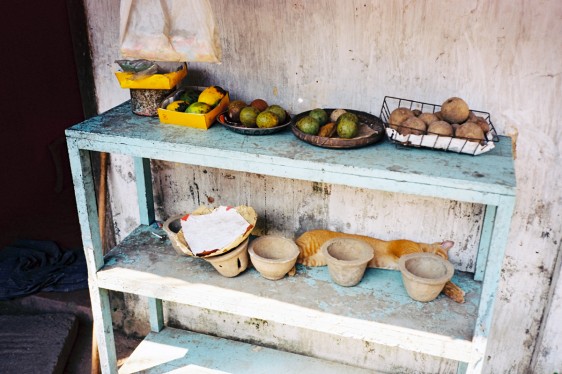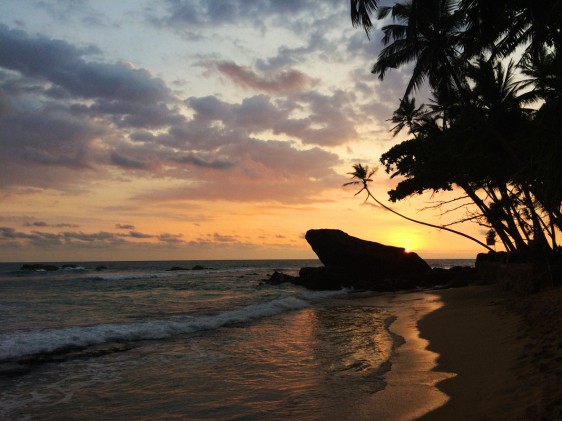 I hope that I will have made you want to go there, do not hesitate to write me a little comment below if you need more info! I'm preparing other articles dedicated to Sri Lankan cuisine, as well as other great addresses!