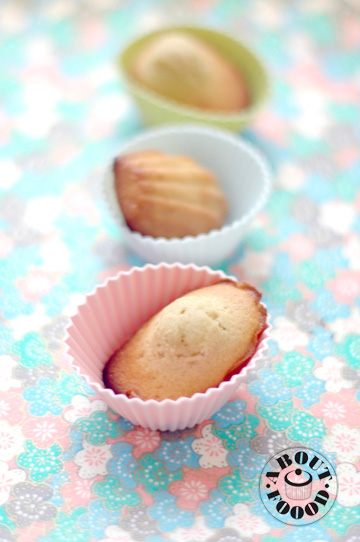 Well, this is not the perfect madeleine yet, but it's not too bad for a first time. It's crispy on the outside and soft on the inside.
The Ingredients (for about thirty madeleines)
– 3 eggs
– 140 g sugar
– 200 g flour
– 2 tbs almond essence
– 8 g baking powder
– 100 g butter
– 50 g milk
– optional: 2 organic lemons
– 2 tbs honey
The Recipe
Melt the butter in a casserole.
Mix the eggs with the sugar until it whitens. Add the essence and milk.
Add the flour and baking powder, and the butter (plus the lemon juice and zest in option). Let it rest.
Butter the molds and pour the paste at half-height.
Bake at 240°C (T8) for 5 minutes, then at 190°C (T6) for 10 min. The perfect shape of the hump "my hump my hump my hump, check it out" – is obtained by this change of temperature.