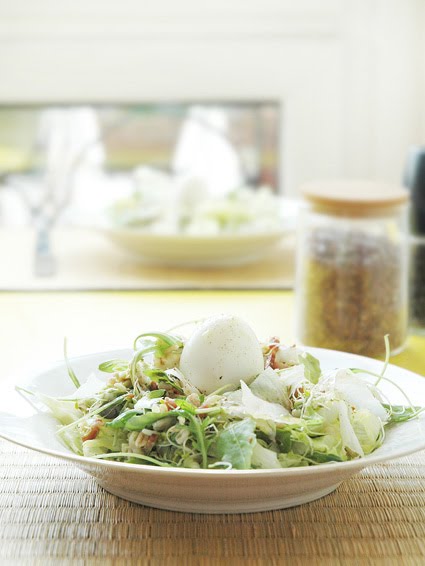 This is a very simple recipe of a salad which looks like an egg was just dropped in its nest.
Please tell me if I made mistakes about the name of the seeds in English, thanks!
The Ingredients (for 2)
– 1 tbs marrow pumpkin seeds
– 1 tbs flax seeds
– 1 tbs sunflower seeds
– 1 bunch of alfalfa (luzerne) sprouts
– a mix of youngs salad herbs (spinach, rucola, mesclun, lamb's lettuce…)
– 1 box of bacon cubes
– 2 eggs
– 1 avocado
The Recipe
In a salad bowl, mix the salad, the seeds, the sprouts, avocado cut in cubes.

Bake the bacon in a pan and add them.

Dress as you like, olive oil and balsamic, etc.

Bake the eggs "soft-boil" or poached, for about 4-5 minutes. Rince them in cold water and take off their shell.

Serve the salad into soup plates with the egg on top.