I love going to restaurants as much as cooking, and I admit that I miss it a lot …! During confinement, it was mainly Asian food that I longed to eat again because I am a big fan of it. I made Japanese udon noodles for the first time, and I must admit that it was incredible. I think the secret lies in the laying and the kneading. Here is the recipe I tried from chef Tak Sekin for the noodles: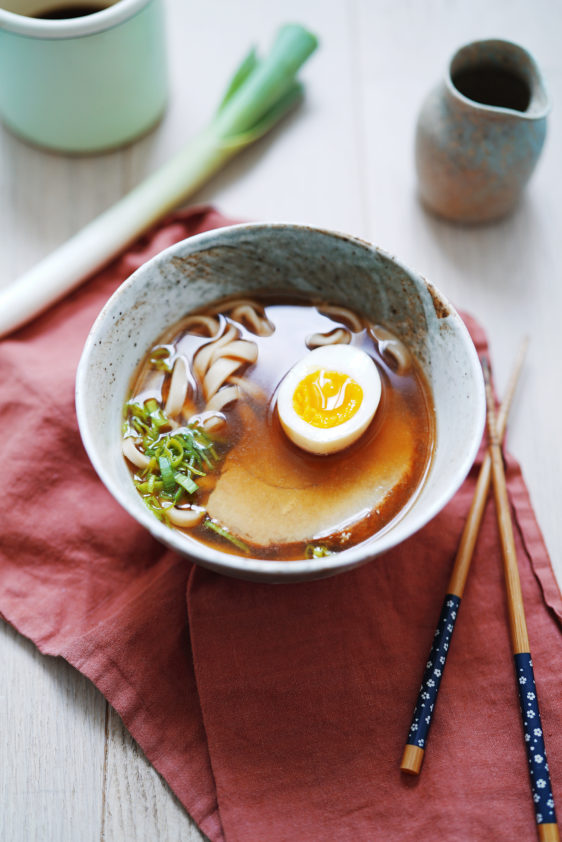 Udon
– 200g wheat flour
– 80g water
– 2 pinch of salt
Mix everything and knead very hard for at least 30 min. Clean film to leave for 1h. Knead again for another 15 min. Spread, cut, cook in water for about 12 min. (You can use a pasta machine if you have one, I found it quite simple to do this with the roller!)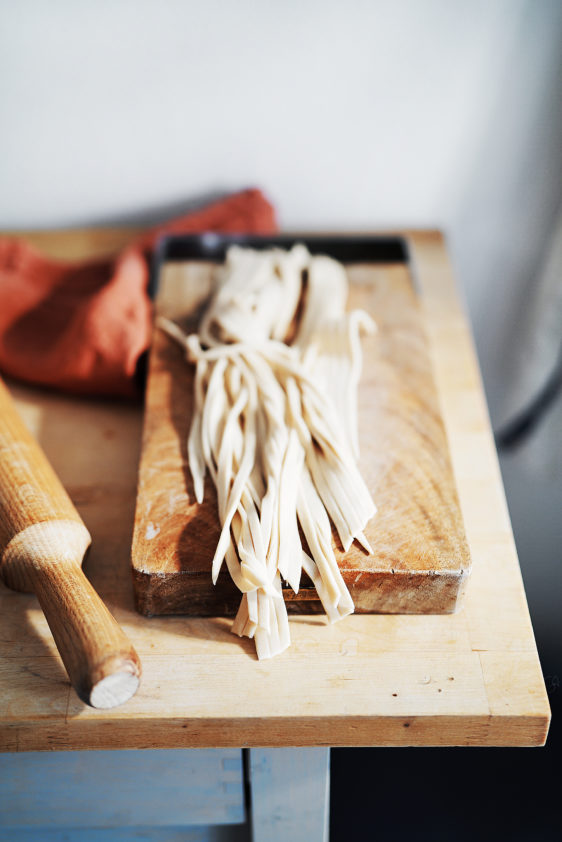 Soy marinated boiled eggs
1 cup of water
1/2 cup soy sauce
2 tbsp brown sugar
2 tbsp rice vinegar
1. Cook 2 eggs in boiling water for 6 minutes. Place in cold water.
2. Mix water, soy, sugar and vinegar. Leave the eggs without their shell to marinate in this mixture for at least 1 hour.
Dashi
For the broth, the ideal is to prepare a dashi, the Japanese broth which is used as a base for the miso soup. You can use it dehydrated or make it yourself. For 1.5 liters of water, you will need:
– 50 g katsuobushi (dried bonito)
– 30 g of Konbu seaweed
Dip the piece of konbu in cold water. Heat and keep on low heat for 1 hour. Then add the bonito flakes, then filter the whole.
Miso soup (for 2)
Don't panic, if you can't find these kinds of ingredients, you can also make a miso soup without the dashi, like me. This following recipe is not traditional, I completely improvised it but it was delicious :-)
– large piece of fresh ginger
– 1 or 2 cloves of garlic
– 1 pinch of chili
– 1 pinch of coarse salt
– 1 sachet of Ariake broth (they are really delicious and completely natural)
– 2 tbsp miso paste
– 1/2 leek or spring onion
– 2 pieces of roasted pork
1. Brown a large piece of grated ginger with garlic in a saucepan with chili. Cover with water and put the sachet of broth in it.
2. Add the miso paste, salt, simmer for about 15 minutes.
3. Place the udon in the broth for about 12 minutes.
4. Serve the broth with the udon, add the roast pork, finely chopped leek or spring onion, marinated egg cut in half.