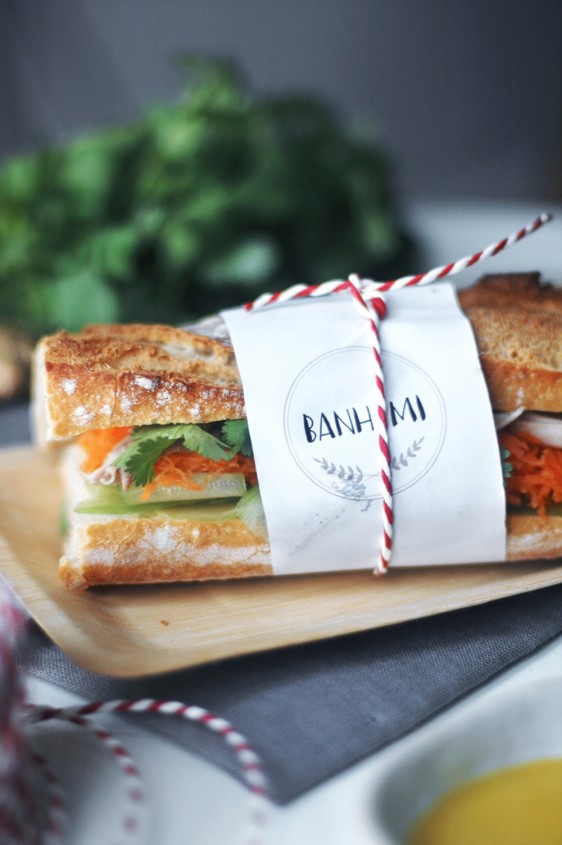 Do you know banh mi? They are Vietnamese sandwiches composed of French baguette (inherited from the French colonialism in Indochina!) and fresh ingredients such as coriander, grated carrots, chicken or beef balls… It's super good. Here is my version!
The Ingredients (for 1 banh mi)
– 1 chicken thigh
– 1 lemongrass
– 1 large piece of ginger
– 1 onion
– 1 garlic clove
– 1 stock cube
– 1 carrot
– 1/2 cucumber
– fresh coriander
– 2 tablespoons rice vinegar
– 2 tablespoons of olive or sunflower oil
for the mayonnaise
– 1 egg yolk
– 1 tablespoon mustard
– 1 teaspoon rice vinegar
– sesame oil
– olive oil
The Recipe
1. Grate the carrot, and make it marinate with rice vinegar and oil.
2. Grate the cucumber, salt it and let it disgorge.
2. In a casserole with water, boil the peeled onion, peeled garlic clove, the stock cube, lemongrass, ginger, and chicken. Add salt and pepper. Simmer for 45 minutes over medium heat.
3. Remove the chicken, let it cool and then bone it entirely.
4. To make the mayonnaise, whisk the egg yolks with salt and pepper, add the mustard, a little rice vinegar. Add sesame oil and oil while beating until the mayonnaise thickens.
5. In a baguette, place the mayo, cilantro, carrots and cucumber and chicken.