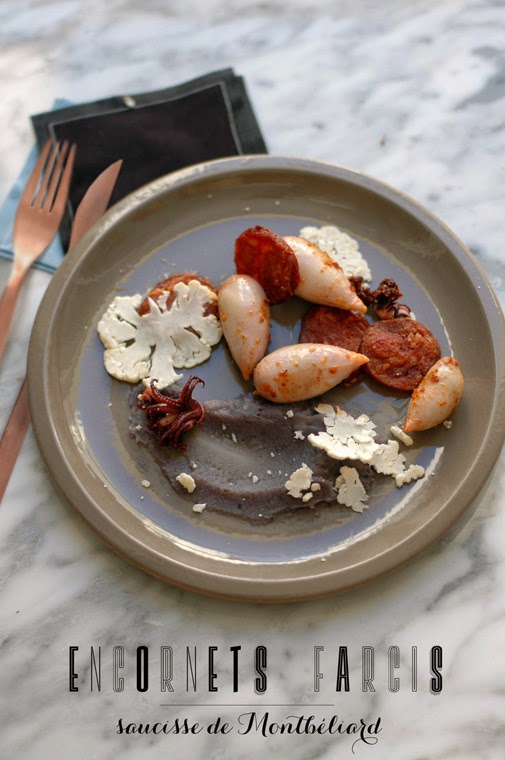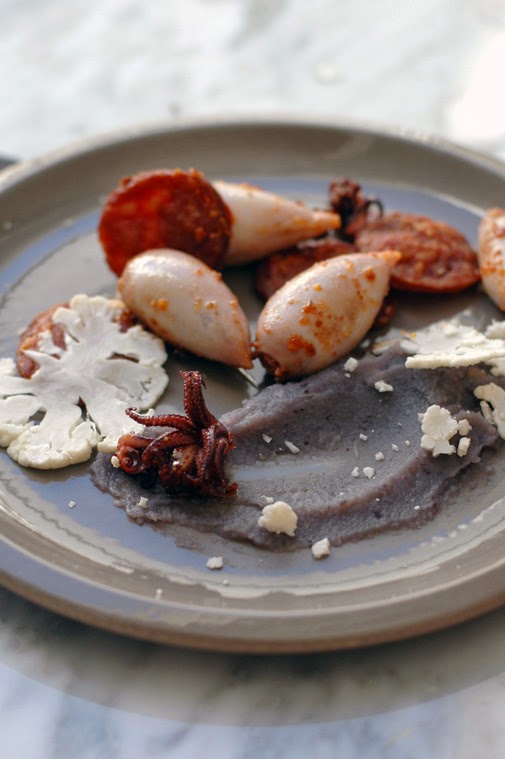 I was invited as part of the agricultural show to a dinner by chef Giuseppe Morabito, with the chain production of Montbéliard and Morteau sausages (typical French smoked sausages). I left with my hands full ! I decided to cook the Morteau sausage in a 
pot-au-feu
, and I wanted to try an original dish with the 
Montbéliard
sausage. I totally improvised and I'm pretty happy with the result, the stuffing was delicious, the grilled sausage married perfectly with the artichoke puree . The only downside is that the sausage is very salty, so be careful to balance the dish! Arm yourself with patience, however, I spent at least two hours cooking!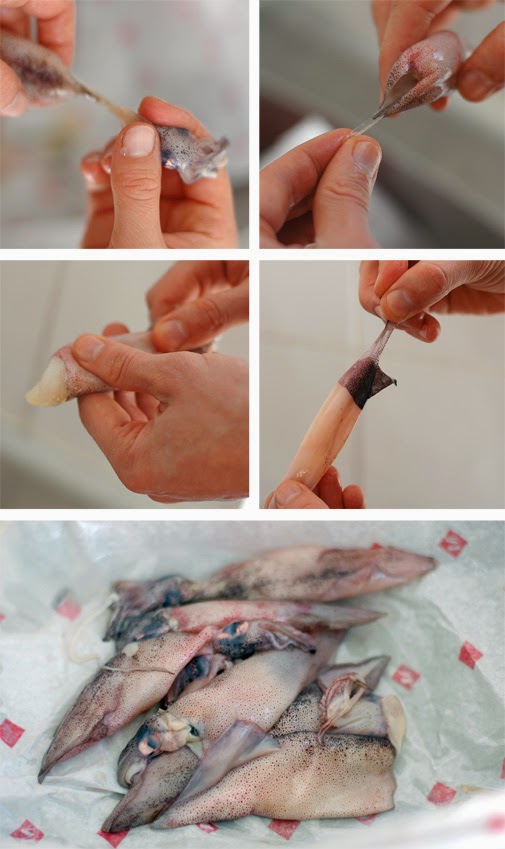 The Ingredients (for 2 plates)

– 8 medium squids
– 1 Montbéliard sausage
– tomato sauce
– 1 cauliflower
– 5 artichoke hearts
– 1 large vitelotte (purple potato)
– 1 onion
– 1 clove of garlic
– cumin powder
– chilli powder
– sage (fresh or dried)
– 1 teaspoon of soy sauce

The Recipe

the squid
Remove the head of the squid with its bowels. If the head stands alone, you can always drain the squid by pushing it.

Remove the bone gently pulling. If it breaks, also remove the other piece to the bottom.

Detach the two fins and pull the skin out.

Turn the bag inside out to be sure it is well emptied.

On the heads, cut the tentacles just after the eyes, and remove the round and hard nodule, and the longest tentacle.

Rinse with clear water. You can also grab the ink bag for a risotto or pasta , which is in the middle of the belly.
the filling
Brown the sausage in a frying pan (without stitching).

Cut it in half. Cut one part into small pieces.

Put it into the saucepan with the onion, garlic, sage, cumin, tomato sauce, chili, soy sauce, and pepper (no salt !).

Reduce it in a mixer. Stuff the squid with it.
the purée
Cook the vitelotte in salted water. Cook the artichoke hearts (I had them frozen ) 10 minutes in the same water.

Mash them together, with a little bit of the water and some butter.
the sausage
Cut the other half of the sausage into thin slices.

Sauté in a pan until they are crispy.
the end
Fry the squid in the sausage fat for 10 minutes, turn them around.

Mount the puree on the plate with the grilled sausages, squids and the cauliflower cut very finely.