I received for my birthday last summer, a fantastic book called Paris Hanoi, from the restaurant by the same name in Paris 11th arrondissement (makes great Bo Buns!). You will tell me that to in order to cook Asian food, we always need so many ingredients, but this time I had nothing left in my fridge and improvised this vietnamese omelet. I used some leeks, green peas and shiitake, but here's the real recipe from the book: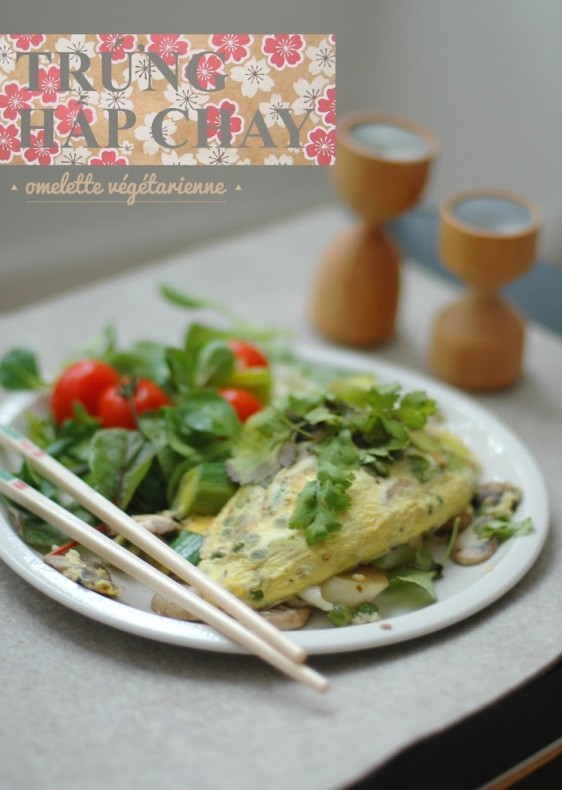 The Ingredients (for 4 people)
Asian products
– 2 tablespoons of fish sauce
(- I added 1 tbsp soy sauce)
Fresh ingredients
– 1 red pepper
– 1 green pepper
– 1 carrot
– 50g fresh bean sprouts
– 1/2 bunch of fresh coriander
– 1/2 bunch fresh chives
(- I added a clove of garlic and fresh grated ginger)
Groceries
– 8 eggs
– 1 tbsp sunflower oil (I used sesame oil)
– pepper
The Recipe
The Omelette
Beat the eggs with a fork. Add the fish sauce, (+ soy sauce) chopped chives, and pepper.
The Garnish
Wash the vegetables, cut carrots into julienne and peppers into strips.
The Cooking
In a wok, heat the oil. Fry all the vegetables and stir for 3 minutes. Pour the eggs over the vegetables and cook 5 minutes, then flip it on the other side and brown 3 minutes on medium heat. Serve hot with coriander.