En regardant la météo, je me dis qu'il y a un peu d'espoir pour que le temps s'améliore…alors voici quelques produits histoire de vous préparer un bon thé glacé pour les chaleurs à venir…!
By looking at the weather forecast, there might be a slight hope that the weather will change for better and brighter days…That being said, here are a few products ideas to make a nice iced tea in order to freshen up!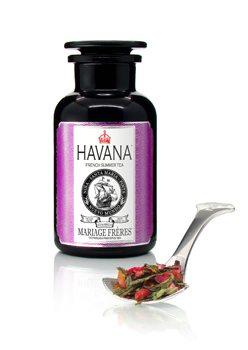 Le nouveau thé vert glacé
Havana
chez Mariage Frères joue sur des accords fruités et acidulés très rafraîchissants : hibiscus, fleur du soleil, grenade et baies de goji.
The new green iced tea Havana from Mariage Frères plays on fruity and fresh tangy notes : hibiscus, pomegranate and goji bay.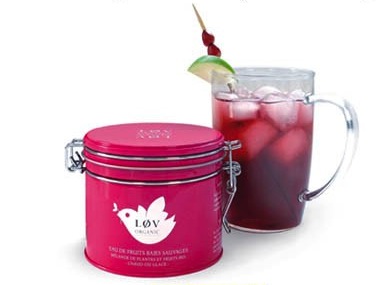 On retrouve l'hibiscus chez
Løv
avec un mélange de plantes bio (cynorhodons et airelles) sans théine.
The hibiscus is also in Løv's organic herbal tea with cranberries and rosehip.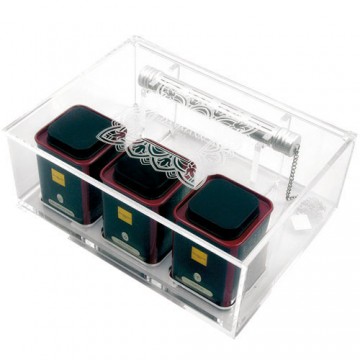 Damman Frères
propose un coffret de trois thés glacés avec en accessoire, un tube infuseur.
Damman Frères offers a box of three iced teas with a infuser tube.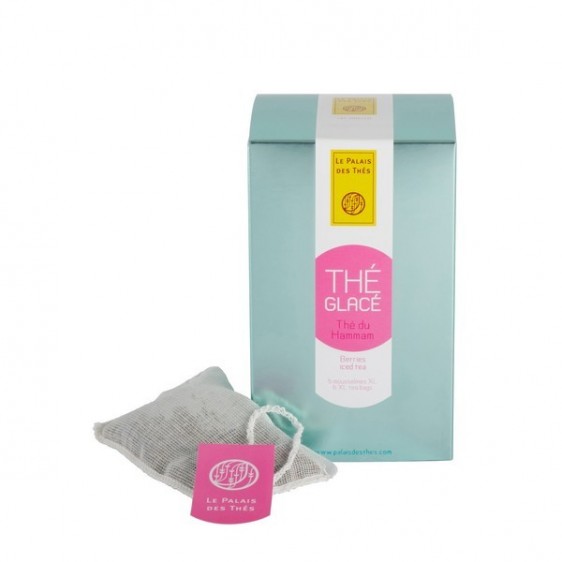 Au Palais des thés, le
Thé du Hammam
glacé révèle des notes plus fraîches et végétales, de fruit frais (fruit exotique, fruit jaune), et une nuance rosée. J'en ai reçu un échantillon, il suffit de laisser infuser une mousseline dans un litre d'eau pendant 1 heure dans une carafe. On peut y rajouter du sucre ou miel et du citron par exemple. Attention à bien le conserver au réfrigérateur dans un récipient fermé…
Au Palais des thés, the Thé du Hammam reveals fresh and vegetal notes, exotic fruits and a rose nuance. I received a sample of it, you just infuse the sachet into one liter of water for about one hour. You can also add sugar or honey, and even fresh lemon. Don't forget to put it in the fridge in a closed carade, otherwise it won't last…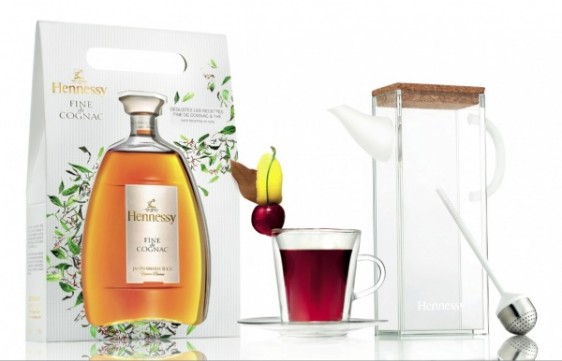 Pour une soirée folle, voici la recette d'un cocktail à base de thé, proposée par Hennessy et la Maison Theodor (les accessoires sont designés par Mathieu Lehanneur).
For a crazy night, here is the recipe of an iced tea cocktail, suggested by Hennessy and Maison Theodor (the accessories were designed by French designer Mathieu Lehanneur).
Il vous faudra/ You will need
– 45 ml Hennessy Fine de Cognac
– 30 ml de thé vert Theodor «Je ne sais quoi»/ green tea Theodor «Je ne sais quoi»
– 10 ml de liqueur de pomme / apple liquor
– 25 ml jus de citron / lemon juice
– 20 ml de sirop de sucre / sugar sirup
– 10 ml de blanc d'oeuf / egg whites
– 2 gouttes d'aromatic bitter / aromatic bitter
– zeste de citron / lemon zest
Mettre tous les ingrédients dans le shaker. Shaker et passer le contenu dans un verre rempli de glaçons. Presser le zeste de citron au dessus du verre et le garnir avec ce même citron.
Shake all the ingredients in a shaker with ice. Squeeze the lemon onto the glass and garnish with a lemon quarter.