Troisième jour à Tokyo, et cette chaleur entêtante n'a pas encore disparu. Pire, elle semble taper plus fort que jamais, même à l'aube. Car pour aller au marché aux poissons de
Tsukiji
, il faut se lever tôt. Et vouloir manger des sushis en guise de petit déjeuner à 6 heures du matin. La partie soit-disant la plus impressionnante est celle qui est réservée aux marchandages endiablés (la criée) autour des thons rouges à peine pêchés. Malheureusement, l'accès est souvent interdit aux touristes, pauvres de nous, qui nous sommes "contentés" de déambuler dans le marché, au milieu de centaines de poissons et crustacés fraîchement sortis de l'eau, à essayer d'éviter la mort parmi les chariots électriques traversant les allées à tout vitesse. En dehors du marché aux poissons, s'éparpillent également des échoppes de légumes (non, pas vraiment de fruits, après avoir cherché trois jours où je pouvais acheter une pomme, j'ai compris que les fruits étaient des mets rares et hors de prix) et de condiments variés (poissons séchés, crackers de riz, et autres bizzareries méconnaissables…). La suite au prochain épisode!
________________
Third day in Tokyo and this unbearable heat hasn't fade away. Worse, it looks like it's hotter every day and that we're wet as a dolphin as soon as we start walking, even at sunrise. Because to get to
Tsukiji
fish market, you have to get reaaally early. As in 4 in the morning if you want to get there in time for the tuna auction – which we did'nt succeed to see unfortunately. But we had our first sushi breakfast at 6 o'clock check that out. We had a walk in the market around thousands of fresh fish and shellfish and seafood. Outside the fish market, some shops selling vegetables and weird ingredients (nope, haven't seen any fruits, tried to look for an apple for 3 days then realized fruits were some kind of rare and expensive present) are side by side to sushi restaurants offering the freshest and most amazing sushi.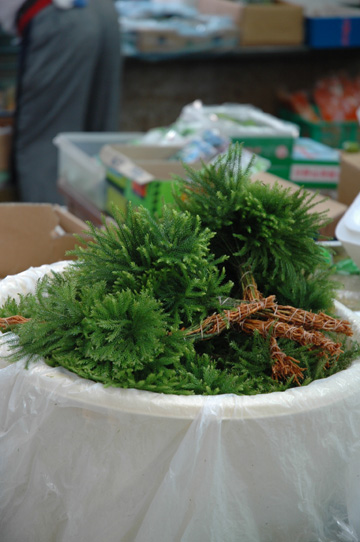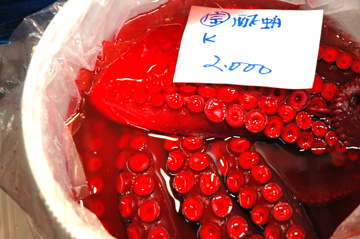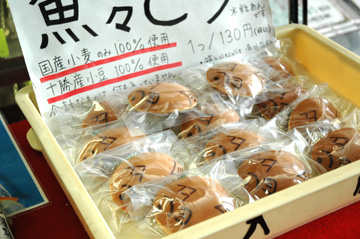 Des gauffres en forme de poissons trop mignons / Cute fishy looking waffles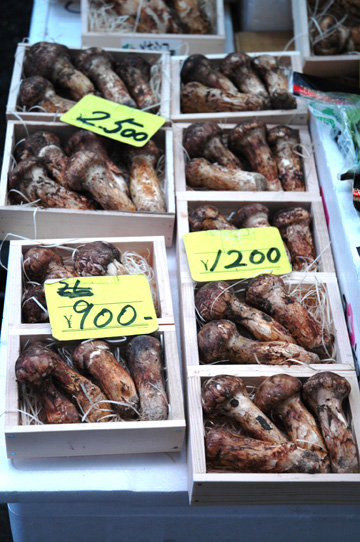 Les champignons shitake / Shitake mushrooms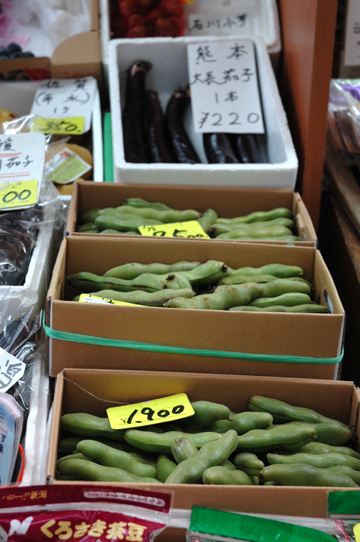 Edamame ou des haricots? / Edamame or beans?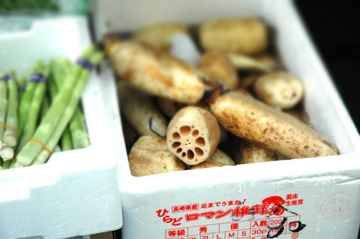 Le renkon, la racine du lotus / Renkon, lotus's root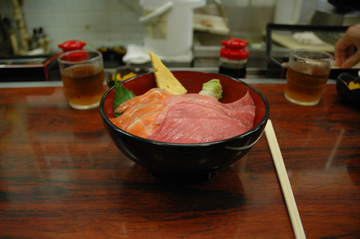 Notre fameux petit déj' très matinal / Our dear early breakfast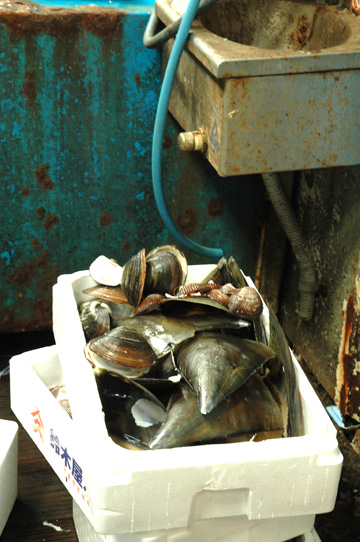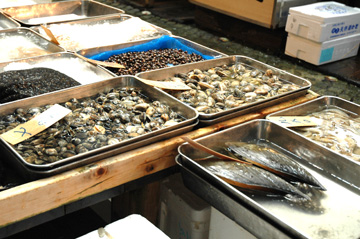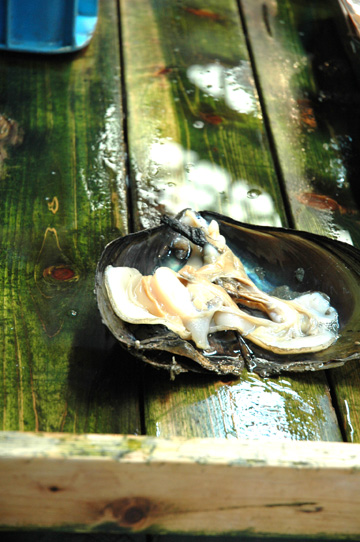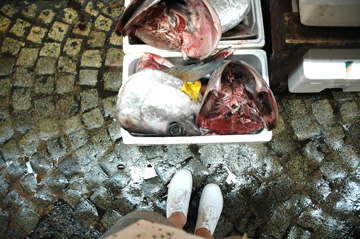 Gentil lecteur, as-tu remarqué mes petites chaussures (et je précise que j'ai de grands pieds) à côté de ces jolies têtes de poissons? / Dear reader, have you by any chance noticed my shoes (and I have big feet) next to those pretty fish heads?