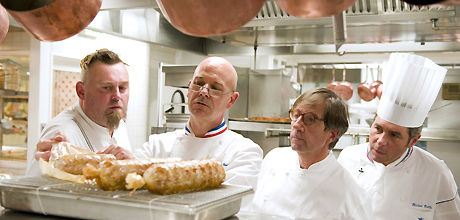 Seven star-chefs, coming from different regions of France, have decided to gather in a famous Parisian palace (The Ritz) to elaborate a Christmas feast, exclusively made of their respective terroir products. This meal is chaired by the chef Babette de Rozières et writer Yann Queffélec.
__

Sept grands chefs étoilés, issus de différentes régions de France, ont décidé de se réunir dans un grand palace parisien (Le Ritz) pour élaborer un repas de Noël exceptionnel, composé uniquement des produits de leur terroir ; festin présidé par la Chef cuisinière Babette de Rozières et l'écrivain Yann Queffélec.
Réalisation / Director : Jean-Pierre Petit.

Chaîne / Channel : France 3
Date : 08/12/2010
Horaire / Schedule : 20H35 – 22H25
Durée / Time of program : 110 mn