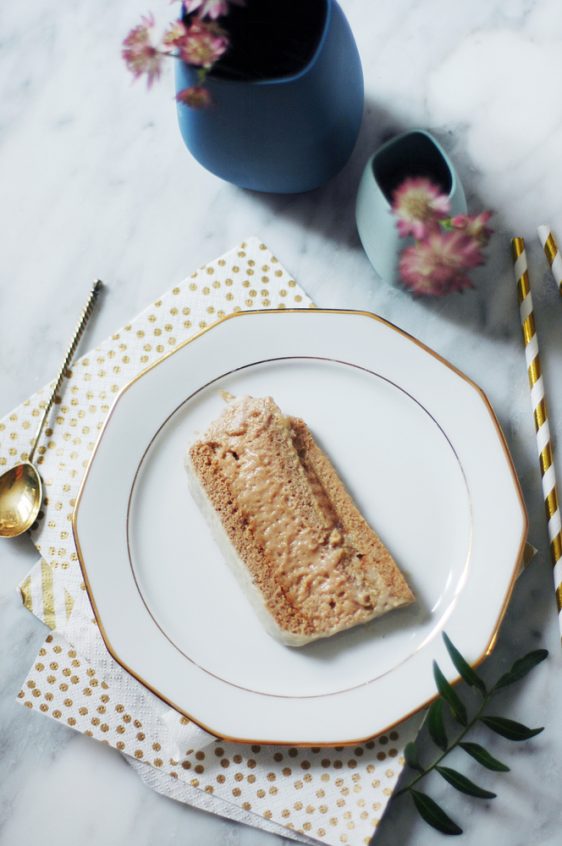 The Ingredients
The Genoise
50g chestnut flour
3 eggs
50 g cane sugar
Chestnut mousse
250g soy or rice milk
3 eggs
25g corn starch
1.5 sheets of gelatin
190g chestnut cream
15g sugar
Pear coulis
4 pears
25g sugar
1 vanilla pod
1/2 c. coffee corn starch
1 lemon
1 sheet of gelatin
a few pieces of candied citron (or lemon)
Frosting
– 25g white chocolate
– 1 pear
The Recipe
The Genoise
1. Preheat your oven to 180 ° C.
2. Separate the whites from the yellows. Mix the yolks with the sugar, then add the flour.
3. Mount the egg whites with a pinch of salt. Stir in the preparation.
4. Pour on a baking sheet covered with baking paper and bake for 12 minutes. The sponge cake must remain blonde.
Chestnut Mousse
1. Soak the gelatin sheets in cold water.
2. Mix corn starch and egg yolks.
3. Heat the soymilk to the boil. Pour the milk over the yolks and stir. Pour everything back into the saucepan and heat until thickened with custard cream.
4. Add the brown cream and the dehydrated gelatin leaves.
5. Beat the egg whites gradually incorporating the powdered sugar. Gently stir the egg whites to the previous preparation.
Pear coulis
1. Dip the gelatin sheet in cold water.
2. Peel, seed and dice the pears.
3. In a saucepan over low heat, pears, sugar and vanilla bean split in half. When the pears are cooked, add the cornstarch diluted in the lemon juice. Cook for another 30 seconds.
4. Remove the vanilla pod, add the gelatin leaf and mix the pears.
Mounting the log
1. In a log mold, put a stretch film to facilitate demolding, then pour the chestnut mousse and chill.
2. Once the mousse has taken, pour the pear coulis, add a few pieces of lemon or candied citron, then finish with the sponge cake that you cut at the bottom of your mold. Let cool for a few hours.
Frosting
1. Peel the pear and cut into small cubes. Cook with a splash of water, then mix.
2. Melt the white chocolate, add it to the pear compote and mix again to obtain a smooth cream.
3. Unmold the log, pour the frosting and then cool again for a few hours.