I am a big fan of Michel Cluizel's products which I discovered some time ago, especially this crazy praliné paste. The nice Kluger Factory which specializes in making pies, associated with the brand to create a delicious chocolate pie recipe. Well obviously I'm very late to tell you about it because the famous pie is no longer available, but here's the recipe I would like to share with you (I made the dough with basic pastry I had left but here the original recipe):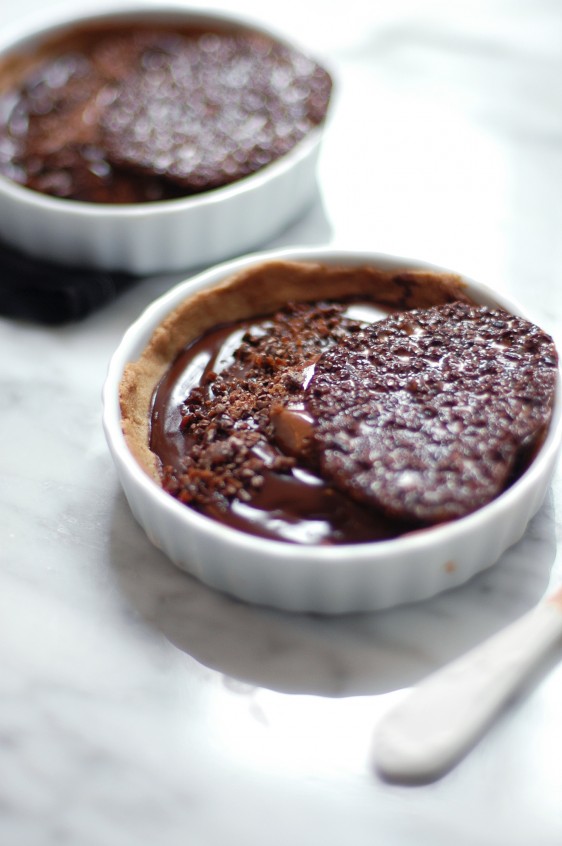 For 6 tartlets
The crust
50 g chestnut flour
125g butter, soft
1 egg
40g sugar
200g rice flour
20g raw cocoa powder from Michel Cluizel
1. The day before or at least 2 hours before, prepare the dough: spreading chestnut flour on cooking paper and put in the oven at 170 ℃ for 10-15 min. It should not color. Cool it.
2. Working in robot or spatula softened butter, egg, sugar to obtain a homogeneous mixture.
3. Add rice flour, roasted chestnut flour and cocoa powder to form a dough ball.
4. Flatten then wrap in cellophane wrap and let stand at least 2 hours in the fridge.
5. Roll out the dough, prick and put into the buttered tart pans.
6. Precook in the oven at 170 ℃ for 25-30 minutes, let cool.
The chocolate ganache and praline heart
200g cream
150g black Kayambe 72% from Michel Cluizel
40g butter
60g praline paste from Michel Cluizel
1. Heat the cream and pour boiling in 3 times on mini grams of chocolate.
2. Add the butter and whisk well.
3. Pour the praline paste in small silicone molds (I did not have one so I formed balls with cellophane). Leave to set in the freezer.
4. Place the praline hearts in the bottom of each tart and color around the ganache. Leave to cool at least 1 hour.
Tile
30g gruétine
20g cocoa nibs
1. Place six small piles of well-spaced gruétine on paper, and pass them in the oven at 180 ℃ for 10 minutes.
2. Remove from the oven and let cool.
3. Place on one half of each tartlet, the other part you can decorate with organic cocoa nibs.
4. Serve chilled or at room temperature.
Fabrique Kluger
11 rue Trousseau
75011 Paris
Petites manufactures Cluizel
201 rue St Honoré 75001 Paris / 3 rue Tronchet 75008 Paris / 2 rue des Rosiers 75004 Paris / 10 rue Madeleine Michelis 92200 Neuilly sur Seine