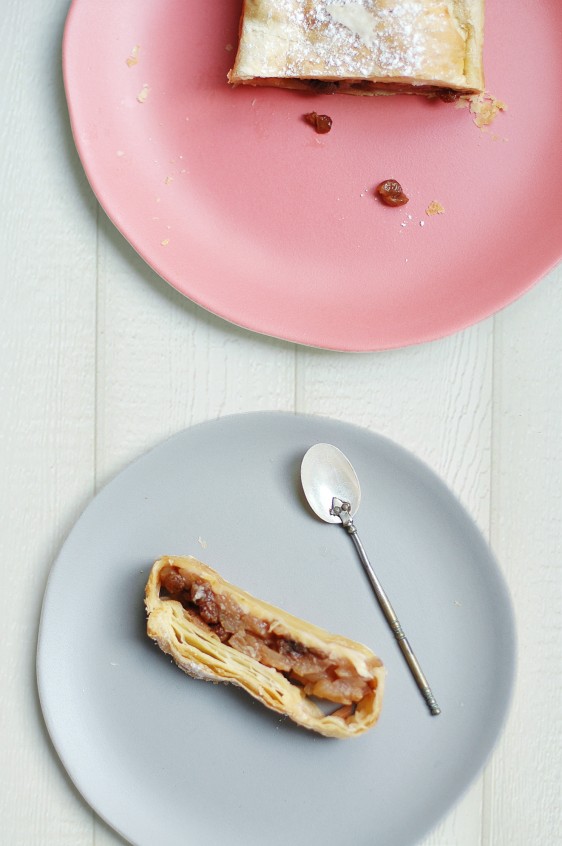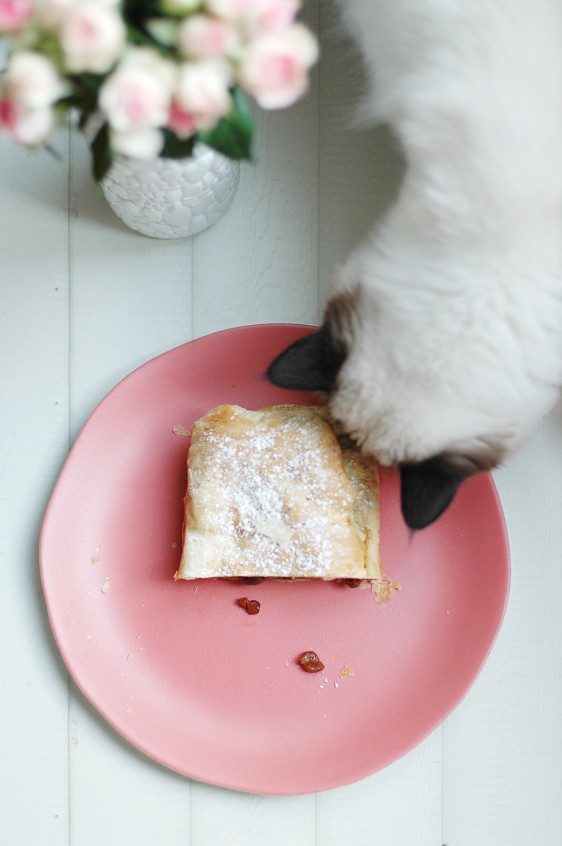 I love strudels, that cake from Central Europe (Austria, Germany, Hungary …) filled with apples and raisins. My recipe is super easy and super quick to make!
I take this opportunity to introduce you to a ceramic brand that I love: Jars. The factory which is located Anneyron near Valence, was founded in 1857 by Pierre Jars, who passed on his passion for the sandstones from generation to generation. Sandstone is a mixture of clays cooked at 1280°C, which makes it one of the most solid ceramics. Jars designed several collections as beautiful as each other. I particularly like the irregularity and the color of these plates in the collection Garden Maguelone (Betterave and Ginger shown here). On their website you can find the points of sale where you can found their ceramics, in Paris you can for example head to Merci ou the Conran Shop. I will soon feature other collections, in the meantime you can also see the Cantine plates in my recipes: black radish carpaccio, kale salad, or my stuffed squids! I can't wait for you to discover as well their factory, which I will visit soon!
The Ingredients
– 1 filo or puff pastry
– 2 or 3 large Boskoop apples
– half a lemon
– 1 tbsp ground cinnamon
– 2 tbsp walnuts or pecans
– 50g sugar
– a few drops of bitter almond extract
– 1 tbsp candied fruit (orange peel …) – optional
– some melted butter or 1 egg yolk
The Recipe
1. Peel the apples, cut into small dice. Mix with sugar, lemon juice, cinnamon, bitter almond.
2. If you wish, you can pre-soak the raisins in rum. If not directly add to the mix.
3. In a dish or cake mold, place the round pastry, and then the apples inside, and roll.
4. Brush all over with melted butter or egg yolk.
5. Bake in a preheated oven at 180 ° C for about 25 minutes, until the cake is golden brown.
6. Serve warm with powdered sugar sprinkled on it.