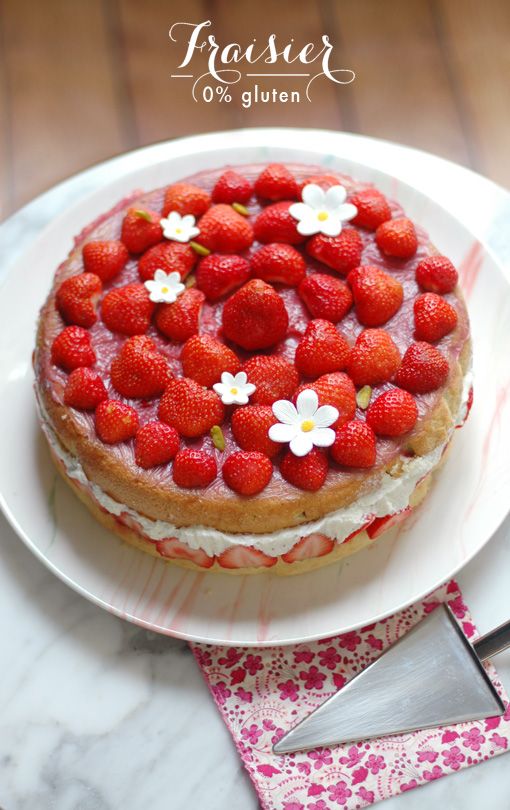 For my birthday, I asked my pastry chef friend Fabien help me make a strawberry cake that we call in France fraisier. He gave me a great recipe that had developed inspired by sponge cakes. It was long and tedious to make, but absolutely delicious! 
The Ingredients
– 500g strawberries
– 500g whipping cream
– 200g white chocolate
– 8g of gelatin
– 10 eggs
– 150g sugar
– 166g rice flour
– 100g heavy cream
– 3 vanilla pods
The Recipe
Mount the yolks with half the sugar and 2 vanilla pods (which you have collected seeds from) into a sabayon (beat in a bain marie).
Whip up the egg whites and remaining sugar.
Pour the whites into the yolks gently, then add the flour little by little.
Mix quickly but gently.
Bake in a round cake pan for about 15 min at 180 degrees (T6), but check with a knife to see if it is cooked enough.
Slowly melt the white chocolate (be careful it can burn quickly).
Add 100g of hot cream inside with the last vanilla.
Then add the remaining cream and gelatin. Let it cool for a few hours or even overnight.
Once cooled, cut the cake into two by sawing, lay a hand on it to rotate so as not to destroy it (an art!).
Place the first genoise in a round cake pan, place the strawberries upright or lying down then the cream that you have previously mounted with a whip. Close with the other sponge.
For the top, you can make a marzipan, icing or like me a gelatin with a strawberry juice (300g strawberries + 50g sugar + lemon juice + 3 sheets of gelatin).