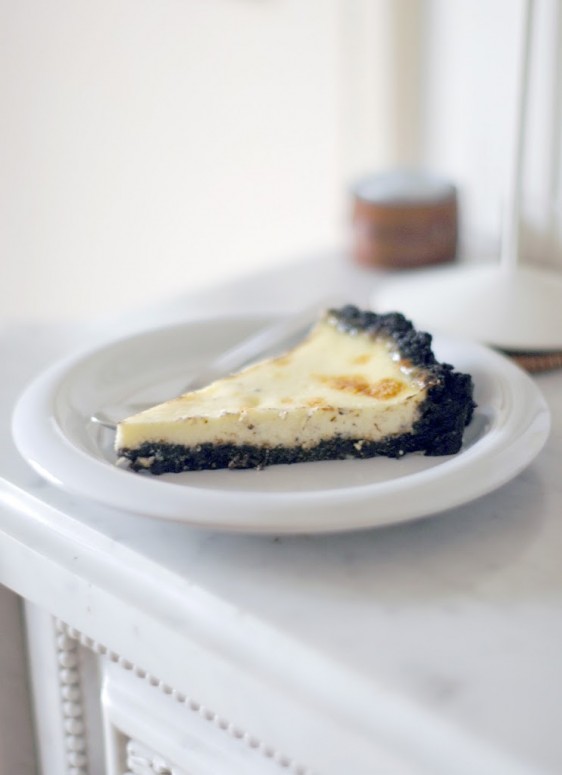 The other day I improvised this oreo cheesecake for a change, and it was quite good! If you don't like oreos, you can of course use speculoos, digestive biscuits or golden grahams. Sensible souls beware, this cake is let's say…a little bit high in calories!
The Ingredients
✩ For the base :
– 2 boxes of oreos (350g)
-75g butter
✩ For the rest :
– 450g philadelphia cream-cheese (I only put 300g that's why he's skinnier looking)
– 50g sugar
– a few drops of vanilla extract
– 2 eggs
– 125ml liquid cream
– 1 organic lemon
– one pinch of salt
The Recipe
Mix the oreos. Melt the butter and add it to the biscuits.
Butter a round mold with removable sides, and mash the biscuits inside with a spoon, and make it go up the sides. Pack it down well.
Bake for 10 minutes at 180℃ (T. 6).
In a big bowl, whisk the cream cheese with the sugar and the salt. Add the eggs one by one.
Add slowly the cream and the lemon zest.
Pour this cream into the mold. Wrap

well

the mold with aluminium paper so that the water doesn't get in, and place your mould into a bigger mould filled in with water so that you cake cooks as in a bain-marie. It will make your cake smoother and help it not to crack.
Bake for about 1 hour depending on your oven at 180℃ (T.6).
Put in the fridge for minimum 4 hours.