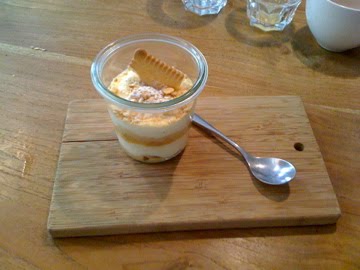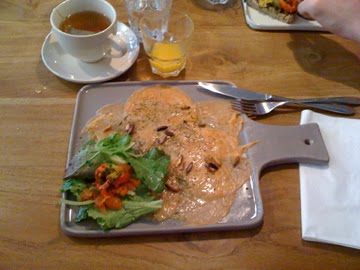 2.Le Loir dans la théière.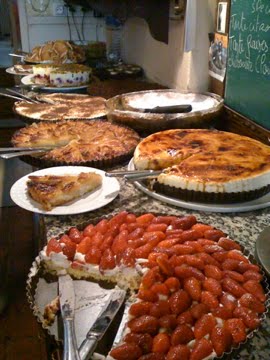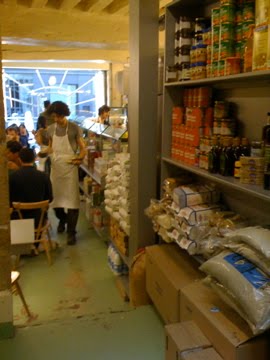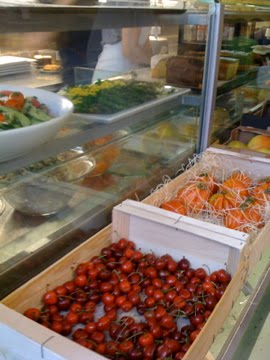 Here is a selection of 3 places to have brunch in Paris.
Sorry for the ugly pictures taken with my phone!
A complete brunch for 19.50€, and probably one of the best quality/price deal of the list. It includes an orange juice, tea/coffee, muesli, bread and brioche, a meal (here salmon carpaccio) and a dessert (here salty butter caramel tiramisu). The neighbourhood is less fancy than the Marais, but the restaurant is well decorated and we appreciate the Belgian specialities, like speculos paste.
–
have to reserve because always full
2.
Le Loir dans la théière
Beware of the line and wait on weekends! The brunch is also 19.50€, it is quite complete but less refined. You get fresh juice, tea/coffee, bread and pastries (not amazing), jam, eggs and bacon, fruit compote (very nice) or yogourt with muesli. If you're still hungry, you'll have a very large choice of desserts like the impressive meringue lemon tart (that you see on the back of my picture).
+
the atmosphere and place
–
the quality of the food and the queue outside
that I had longed to see. This organic restaurant does not propose a typical brunch formula, but meals and desserts. The bill is higher, you'll have to count 7 € for a muesli, compote or fruit salad, 4/7 € for pastries, and 11-16 € for meals like hamburger or veggies. Fresh juices are nice and tall and cost 6.50 €.
I have to admit I was quite disapointed by my 7 € fruit salad which was basically only composed of apples…But I stole some granola from my friend, and it was quite delicious, made me think of the one I used to eat in New York from Woolworth. The atmosphere and place are very enjoyable, the restaurant is hidden in a small street.
+
the organic products, the place
__
Voici un petit article sur 3 lieux branchés pour bruncher à Paris.
Désolée pour les photos pas jolies prises avec mon téléphone.
On commencera par un petit tour près de chez moi, dans le 12ème, chez nos amis belges,
Un brunch bien complet à 19.50€, et qui rapport qualité/prix, est probablement le meilleur deal de la liste. Le fameux brunch en question comprend jus d'orange, thé ou café, muesli et tartines, puis le choix dans un plat (ici carpaccio de saumon) raffiné (fois gras à la compote de figues, salade de blé au poulet, bruschettas,…), puis dessert (ici un tiramisu au caramel au beurre salé…Hmm)! Autant dire qu'on en sort repus. Il est également possible de prendre un plat au menu. Le quartier est plutôt tranquille et l'endroit très joliment décoré. On appréciera également les petites spécialités belges, comme la pâte de spéculos!
+
la qualité du repas
–
il faut réserver car c'est souvent plein
On continue avec un tour dans le marais, au
2.
Le Loir dans la théière
Attention, on y fait la queue le weekend! Le brunch ici est également à 19.50€, il est bien complet également mais bien moins raffiné. Il se compose de jus frais, thé/café, viennoiseries (pas dingues), pain et confitures, bacon et oeufs au choix (pas dingue non plus), et d'une compote ou muesli au yaourt (compote très bonne par contre). S'il reste une place pour un autre dessert, on y trouvera son bonheur parmi les nombreux mets proposés comme l'impressionnante tarte au citron meringuée (qu'on voit au fond de ma photo). On peut également prendre des plats au lieu du brunch.
+
l'ambiance et le lieu, très conviviaux
–
la qualité du brunch et la queue
Pas très loin se trouve le fameux
3.
Rose Bakery
que j'avais hâte d'aller voir. Ici, ce restaurant bio ne propose pas de formule brunch classique mais plutôt des plats et desserts. La note sera par contre plus élevée, on compte 7 € pour muesli, compote ou salade de fruit, 4/7 € les pâtisseries, et entre 11 et 16 € les plats salés tels que le hamburger. Les jus frais sont bons mais coûtent tout de même 6.50 €.
Je dois avouer que j'étais déçue de ma salade de fruits à 7€ composée quasiment uniquement de pommes…Mais j'ai piqué du muesli au voisin qui lui était fort délicieux, une pensée nostalgique pour le granola new yorkais de chez Woolworth tant aimé. L'ambiance et le lieu sont très agréables, les mets sont visibles, et des caisses de fruits et légumes, boîte de thés et autres conserves anglophones trônent sur les grosses pierres apparentes.
+
le lieu, tranquille car caché dans une petite rue, et les ingrédients bio